Archive for February, 2010
Commercial Solar Installation Time-Lapse Video
EmPower Solar is a Premier Dealer of SunPower solar panels.  SunPower offers some of the top performing and top warrantied panels on the market.  Watch this SunPower provided time-lapse video of a commercial installation.  The video demonstrates the ease of installating SunPower's T5 mounting system which requires no roof penetrations and no grounding.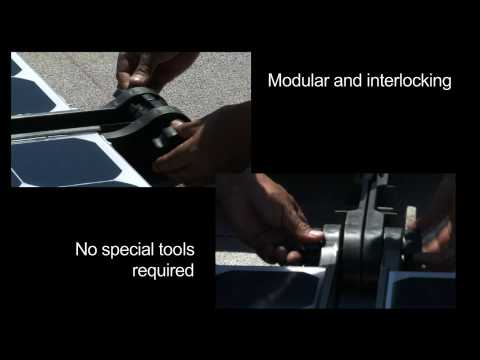 EmPower CTO Presents on Solar for EJCLI
Posted
3 years, 9 months ago.
by Marketing in
Community
On February 17, EmPower CTO Greg Sachs gave a presentation on solar energy systems for Engineers Week hosted by the Engineers Joint Committee of Long Island.   The event was attended by about 70 people and was held at the Dave & Buster's in Farmingdale.
Greg's presentation covered solar energy basics including system design and installation.  Overall, the event was success.   As Greg said:
We were honored to be hosted by the EJCLI.  There were especially lively questions about the possibilities of feed-in tariffs (FITs) as a financing mechanism and the influence of FITs on system interconnection.  The people were interested in how each of their different disciplines of engineering  specifically contribute to the overall photovoltaic design process.
EmPower is proud to participate in educational opportunities such as this one.  Watch our calendar to find out where we will be next.
Feed-In Tariff Legislation a Possibility in NY
Feed-In Tariffs (FITs) implemented in Germany and Spain spurred record growth in their renewable energy industries, making them global leaders in solar energy. Now, there is a chance FITs could come to New York, bringing with them unprecedented benefits and opportunities.
A FIT establishes a premium rate at which renewable energy systems (small or large scale) sell their energy to the grid. Instead of net metering, system owners are paid for every kWh generated, not just those they don't consume. Read the NREL paper to learn more about how FITs function.
Around the world, FITs have been proven to be the fastest and most economical way of deploying renewable energy systems. The New York Solar Energy Society gives 16 reasons why FITs are advantageous and effective. Some of the most prominent are:
1. A FIT will create tens of thousands of clean energy jobs in NYS
2.  Reliable, predictable credit flows from FITs promote private sector investment
3.  FITs promote investment in large scale AND small scale systems
A petition is out to support FIT legislation in NY. Add your name here.