Archive for June, 2011
EmPower goes Over the Edge for Charity
On Saturday June 11th, 2011, members of the EmPower team, participated in an event held by the National Foundation for Human Potential called, "Over the Edge for Charity".  The experience was inspiring and rewarding for all involved.  Participating individuals were asked to raise funds for the organization by going 'Over the Edge',and repelling down the 12-story, H. Lee Dennison building in Hauppauge,New York.
Going 'Over The Edge' was easy for some, but not for others.  Some team members had their concerns but overcame their anxieties as they left their worries on the roof and made their descent from 120 feet in the air.
The mission of the National Foundation for Human Potential is to promote, develop and encourage educational and support services for children and adults with different abilities through financial and other means of support. To meet that purpose, the Foundation raises funds and provides contributions and grant awards to organizations, which build communities.
EmPower is proud to support the National Foundation for Human Potential.  We aim to align ourselves with organizations whose principles are similar to what we call The EmPowering Way.
EmPower Solar named Nassau County Business of the Month
County Executive Edward Mangano pays EmPower a visit and presents CEO, David Schieren and COO, Greg Sachs with the Business of the Month for June 2011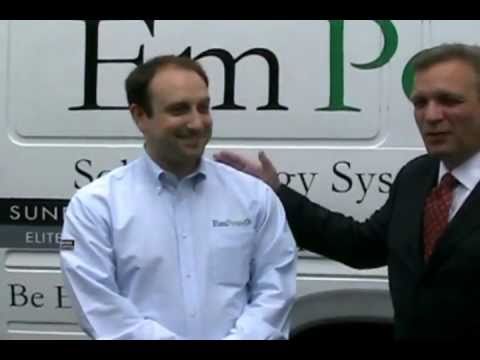 Operation LIVE UNITED
On Tuesday, June 14 (Flag Day) the United Way of Long Island encouraged all Long Islander's to show support for our troops by wearing a "LIVE UNITED" tee shirt for the day.  Money raised will go towards United Way of Long Island's Military Family Assistance Project.
EmPower Solar was honored to participate in this project by purchasing tee shirts for all employees and wearing them to work on Tuesday as a sign of support for our military personnel who protect our freedom every day.
EmPower is also proud to partner with United Way as it's solar provider.  EmPower has installed 5 solar electric systems for United Way totaling 40.61 kW with annual savings projected at $8,026.
Although Flag Day has passed donations can still be made.  If anyone would like to make a donation please click here to become a part of Operation LIVE UNITED.