Calculating the True Cost of Solar

Jun 30, 2017
by EmPower Solar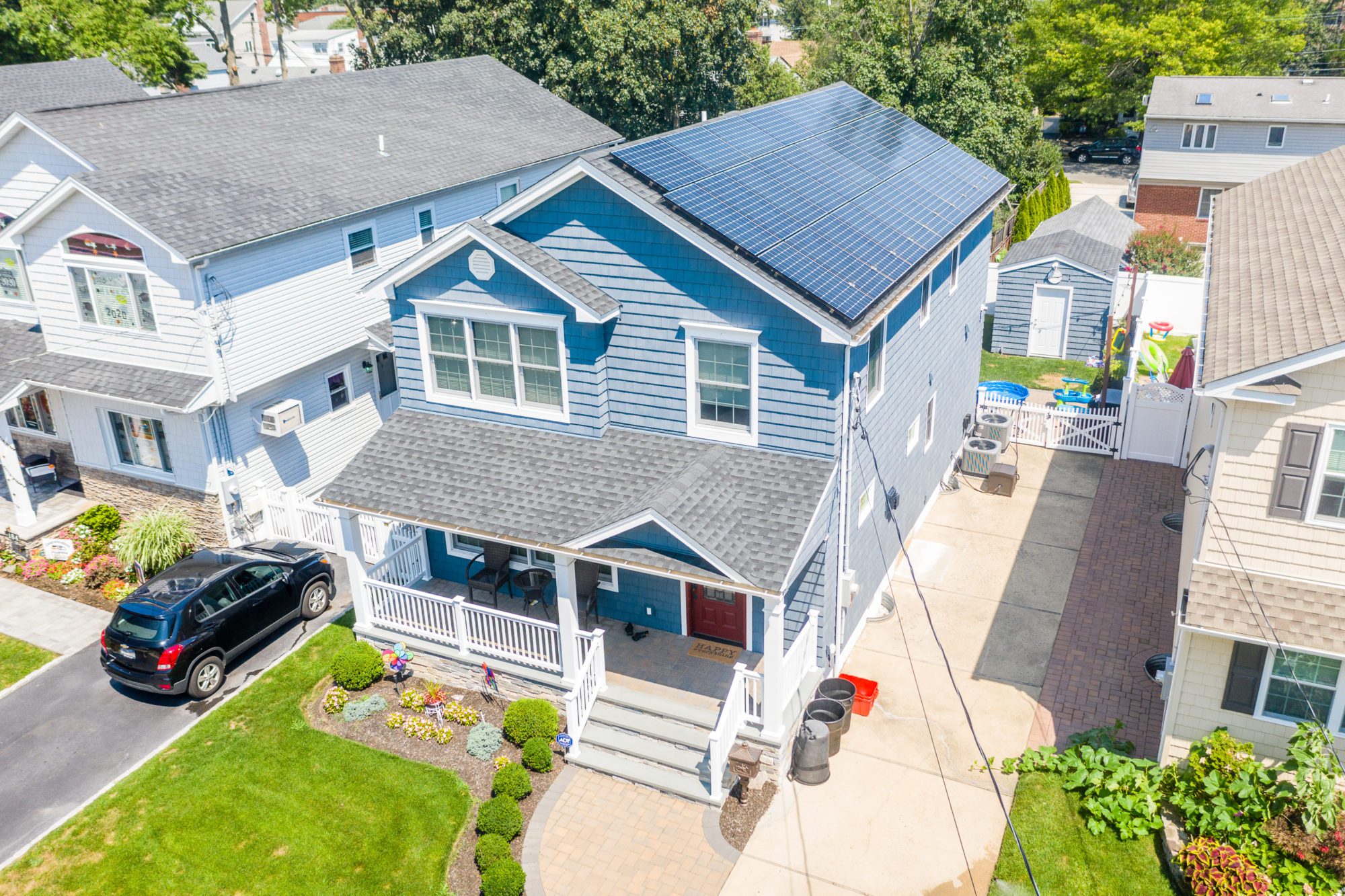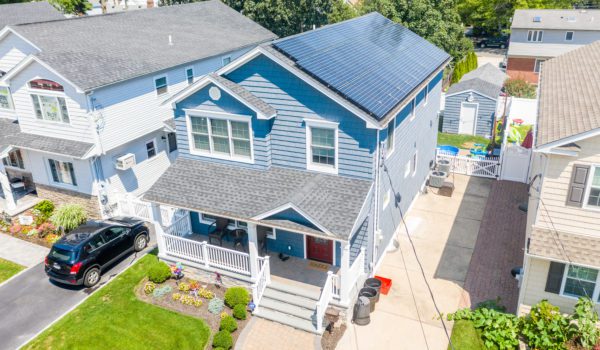 Note: This blog was originally published in June 2017 and was updated July 2022.
Prices everywhere have been rising, and this summer, New Yorkers are feeling the heat of inflation. As of July 2022, the cost of electricity is up 11.8 percent, causing many homeowners to look for an alternate solution, like solar. 
The misconception that the cost of solar will outweigh the money-saving benefits can scare away a lot of homeowners. Over the past few years, the cost of solar has actually decreased by 82 percent. Right now, home solar is more affordable than ever, and can help significantly lower your electricity bill. But as with any home improvement project, home solar is an investment, and you may be asking yourself "is going solar worth it?" 
Since the cost to generate kilowatt hours (kWh) varies from state to state, neighborhood to neighborhood, and even house to house, there is no one-size-fits-all answer to this question. Let's break down the potential cost of home solar. 
Cost of Solar Panels
The true price of your home solar system depends on how many panels will need to be installed. This is determined by roof size, production needs, sun exposure time, and a few other factors.
Before arriving at this cost, you'll need to choose the best financing option for you. For example, if zero money down is appealing, then financing your system may be your best bet. Fixed low payments will help control your monthly costs, and you'll see savings from day one. You can also choose to pay in cash, another popular option that allows you to own your home solar system, or lease it.
In general, you can expect your system to cost anywhere between $10,000 and $25,000. If your energy needs change later on, if you install a hot tub or an EV charger at home for example, you can typically add more panels to your array. The best part of solar is that the cost is fixed. Once your system is installed and paid for, you will never need to pay another dime. 
Installation Cost
This cost depends on the number of panels you need, installation labor, and permitting involved with your installation. We'll assess your roof architecture, pitch, orientation, shading, and your current consumption to determine the best fit for you. 
Because your solar system can power your home for 20 to 25 years, your roof needs to be able to last the same amount of time. Because of this, some homeowners need to repair or totally replace their roof. This can be costly, but luckily there are incentives out there that can help offset this cost. 
EmPower Solar is proud to exclusively install top of the line SunPower panels. Not only are SunPower's panels more productive than competitors, but they offer the most extensive warranty on the market. Any costs associated with repairing your system for 25 years are covered by SunPower's warranty, so no need to worry about any unexpected costs. 
Electricity Savings from Home Solar Panels
The average electric bill for homeowners in New York is $250 per month. Electric rates tend to fluctuate month to month, but let's say you're spending $3,000 each year on electricity. Historically, these prices do increase each year, a conservative estimate puts that at approximately 2 percent. According to this number, after 25 years, you'll spend $96,042.46 on electricity.
After your panels are installed, your home will use the energy generated by the sun but will need to remain connected to the grid. PSEG charges a monthly grid connection fee of around $14, and each month you will be charged for any electricity you use from the grid. 
If your system is producing more energy than you use, you can bank those credits to lower your electricity bill during a month when you use more energy than your system is producing, such as over the winter. Because solar provides savings from day one, you can expect to save $100,000 on monthly electric bills over the course of your system's 25-year lifetime.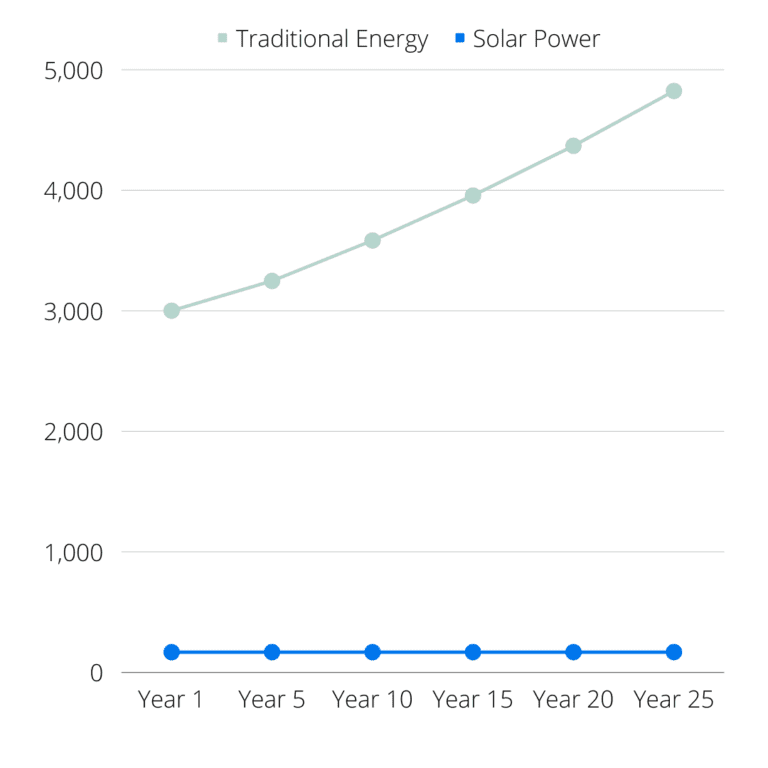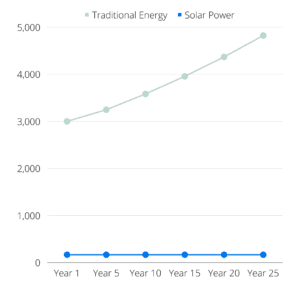 In this graph, the light green line represents the price of traditional energy over a 25-year period with a 2 percent yearly increase.
Home Solar Incentives
There are a number of incentives and rebates available to help you offset the cost of solar. With the Federal Solar Investment Tax Credit, you can recieve a 26 percent tax credit! This tax credit is only available for systems that are installed by December 31, 2022. After that the credit will drop to 23 percent, and is slated to disappear entirely in 2024. If you lease a system, the value of the federal ITC is factored into your monthly payments.
You can check the Database of State Incentives for Renewables and Efficiency to check for additional regional incentive programs. By combining rebates and other offers, half of your system's total cost could be covered. 
The Total Cost of Solar
Let's use a $20,000 system as an example. This homeowner is able to use different rebates to lower the cost by 40 percent, so now the total cost is $12,000. Because solar provides savings on your electricity bill from day one, their monthly PSEG bill comes to $14. This is the cost to remain connected to the grid. At this price, their 25-year energy bill total is $300. This means that after 25 years, this homeowner will have spent $12,300 on adding a system and only using solar energy. Compare that to someone who didn't go solar, and their 25-year energy bill total is $96,042. We think the savings speak for themselves.
Want to know if you qualify for a Long Island or New York City solar program?
Sign up today for a free consultation to see if your home is right for solar. 
About the Author

EmPower Solar develops, engineers, installs, and services solar and battery systems for residential and commercial clients. Since 2003, EmPower Solar has empowered thousands of New York homeowners and businesses with 47 megawatts of distributed solar. Its vision is to create a new energy paradigm powered by clean, renewable energy for a more prosperous, healthy, and civil world. The company culture is defined by the EmPowering Way, which results in consistent 5-star customer service reviews. For more information visit empower-solar.com.