The 10 Most Environmentally Friendly Cities in the US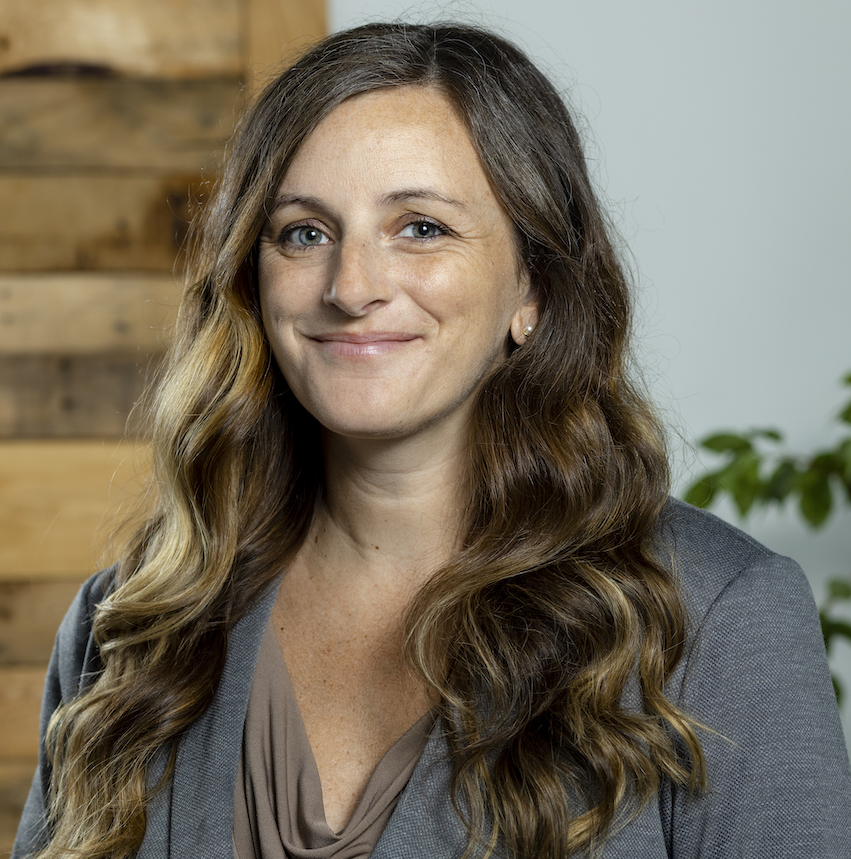 Mar 23, 2018
by Tara McDermott
While one city can't completely reverse the negative effects of pollution or reduce their carbon footprint enough to solve all of Earth's problems, the cities that are doing their part in the fight against climate change make a difference in the end. More American cities are putting practices into place in the shape of policies, regulations, and initiatives with the goal of helping save our planet.
You might begin seeing more rewards for individuals making eco-conscious decisions in your home city or more installations of solar panels and wind turbines. You might be witnessing harsher restrictions on emissions for businesses. But, which places in the U.S. have taken the biggest steps towards an eco-friendly society? We wanted to find out which cities in the US are taking the biggest strides and therefore could be considered the most energy forward.
To uncover the answer to that question, you first need to understand what makes a city "eco-friendly" or "energy forward". While there are many factors that play a role, at EmPower Solar we feel that there are certain practices that really make a city stand out. We've selected ten practices that we recognize as making a difference and used those as the data points in our study. The categories included are:
Tax incentives for solar power usage
Tax incentives for electric car purchases
Energy storage initiatives
Energy efficiency
Electric car sales
Solar panel sales
Schools using solar power
Energy efficient public transportation
A pledge to go 100% renewable energy
Number of electric car charging stations
After conducting extensive research, the team here at EmPower Solar has identified the top 10 energy forward cities in the US. You can check out the winners below.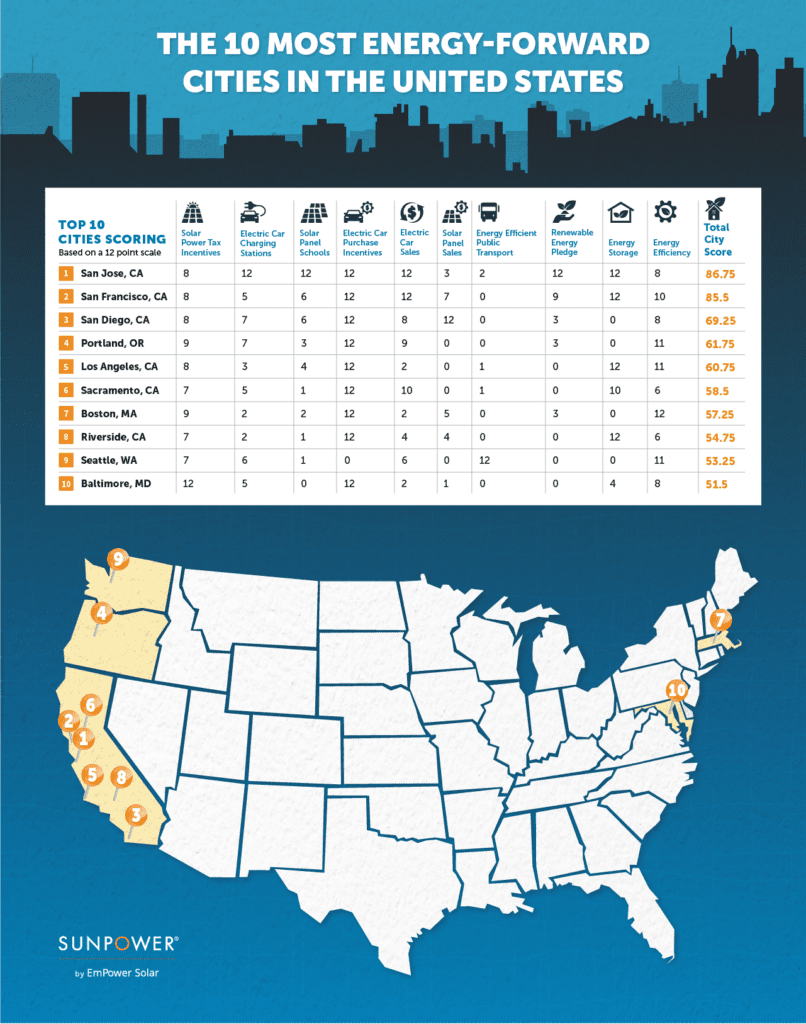 As you can see from the graphic above, each of the 10 cities had their own areas where they really excelled as well as shortcomings where they might not be as forward thinking. In order to even be considered in our study, a city had to have a population over 1 million. From there, we ranked the cities based on the criteria and data points mentioned above.
But, we didn't stop there. Being a part the top 10 list is a big honor, but there are many other cities that are doing their part who we also wanted to recognize. So, we took it a step further and identified the top 25 energy forward cities.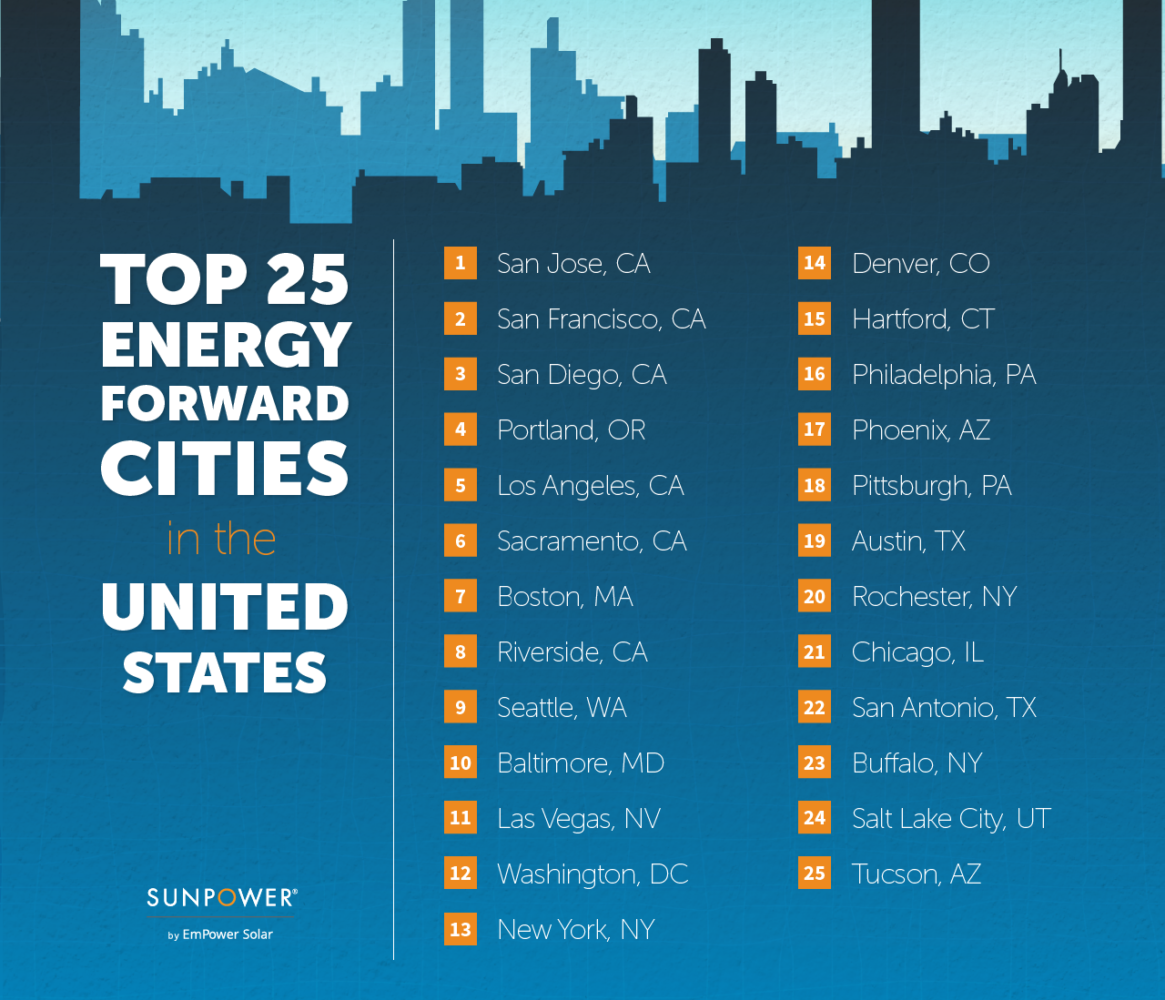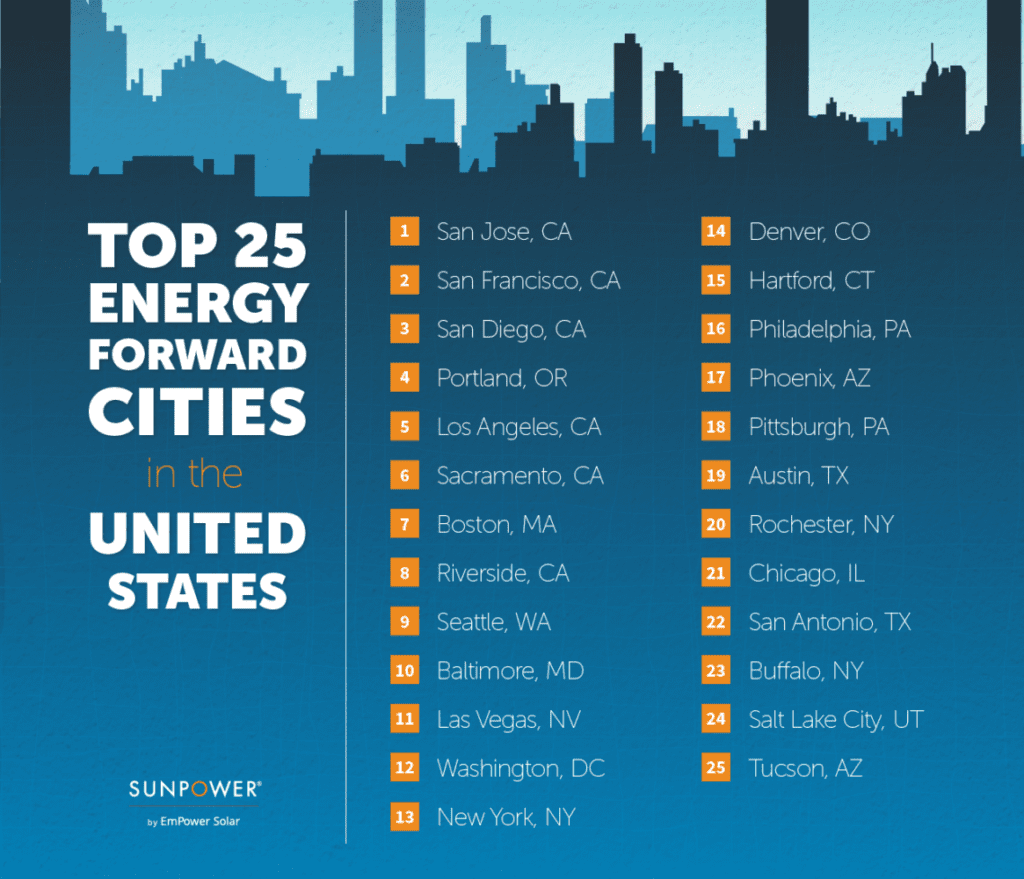 We also wanted to recognize some of the cities that excelled in certain categories such as energy storage and solar panel adoption rate.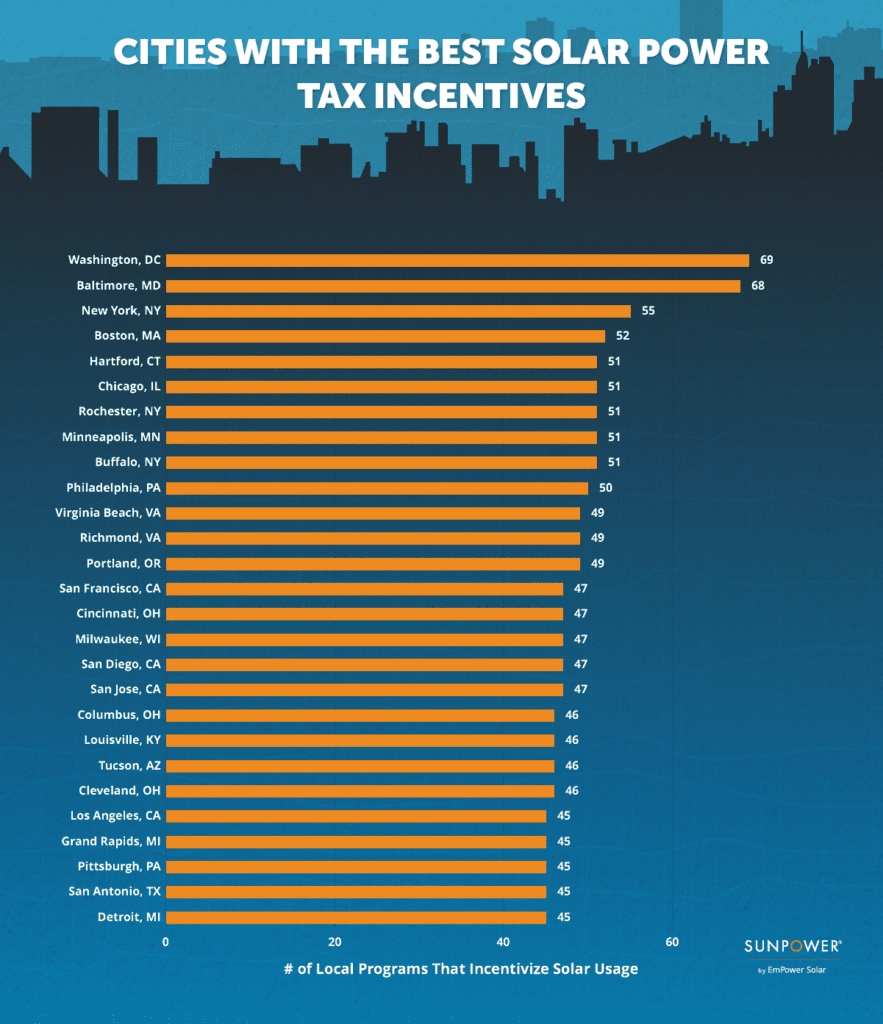 While Washington, DC fell short in other categories and therefore didn't make it into the top 10 energy forward cities, they are the American city with the best solar power tax incentives. We were also happy to see that New York City was in the top three for this category.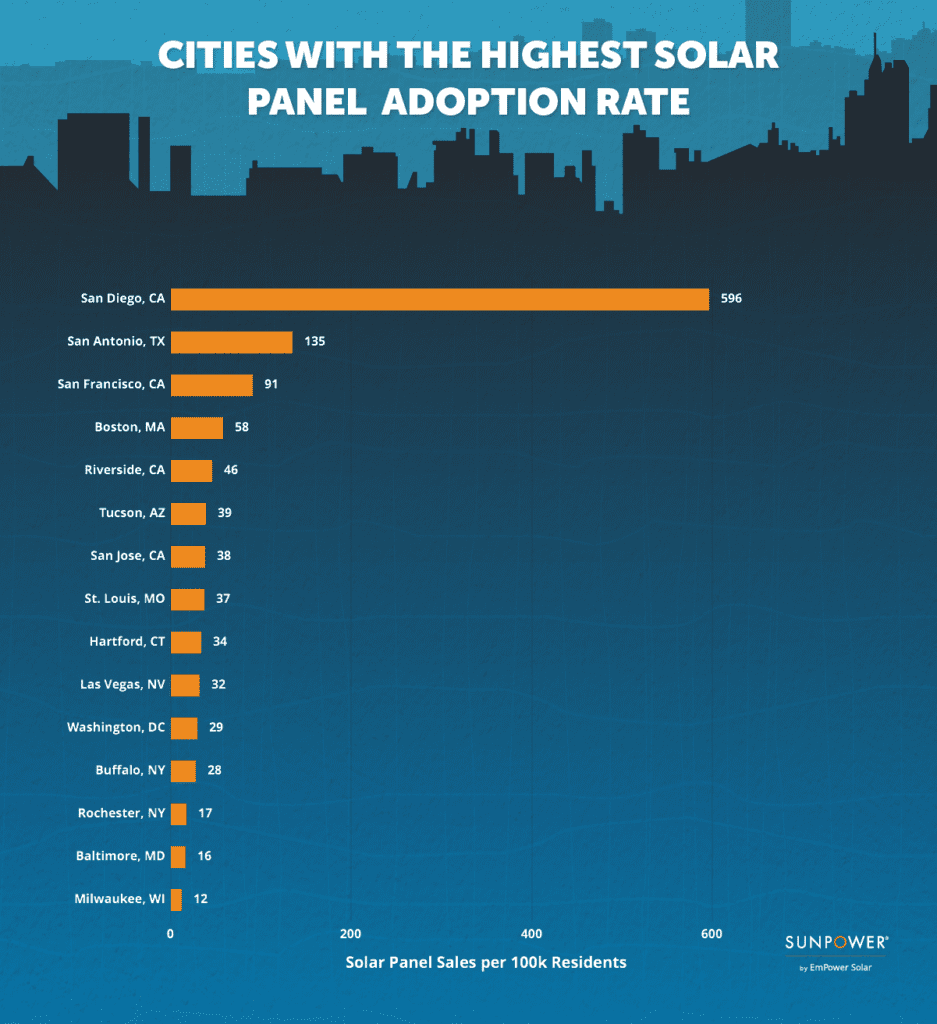 Considering our passion for solar panels, we had to give a shout out to the cities with the highest adoption rates for solar panels. San Diego has a total of 596 solar panel sales per 100k residents, which placed them in first place for this category and helped them get into the top 3 overall.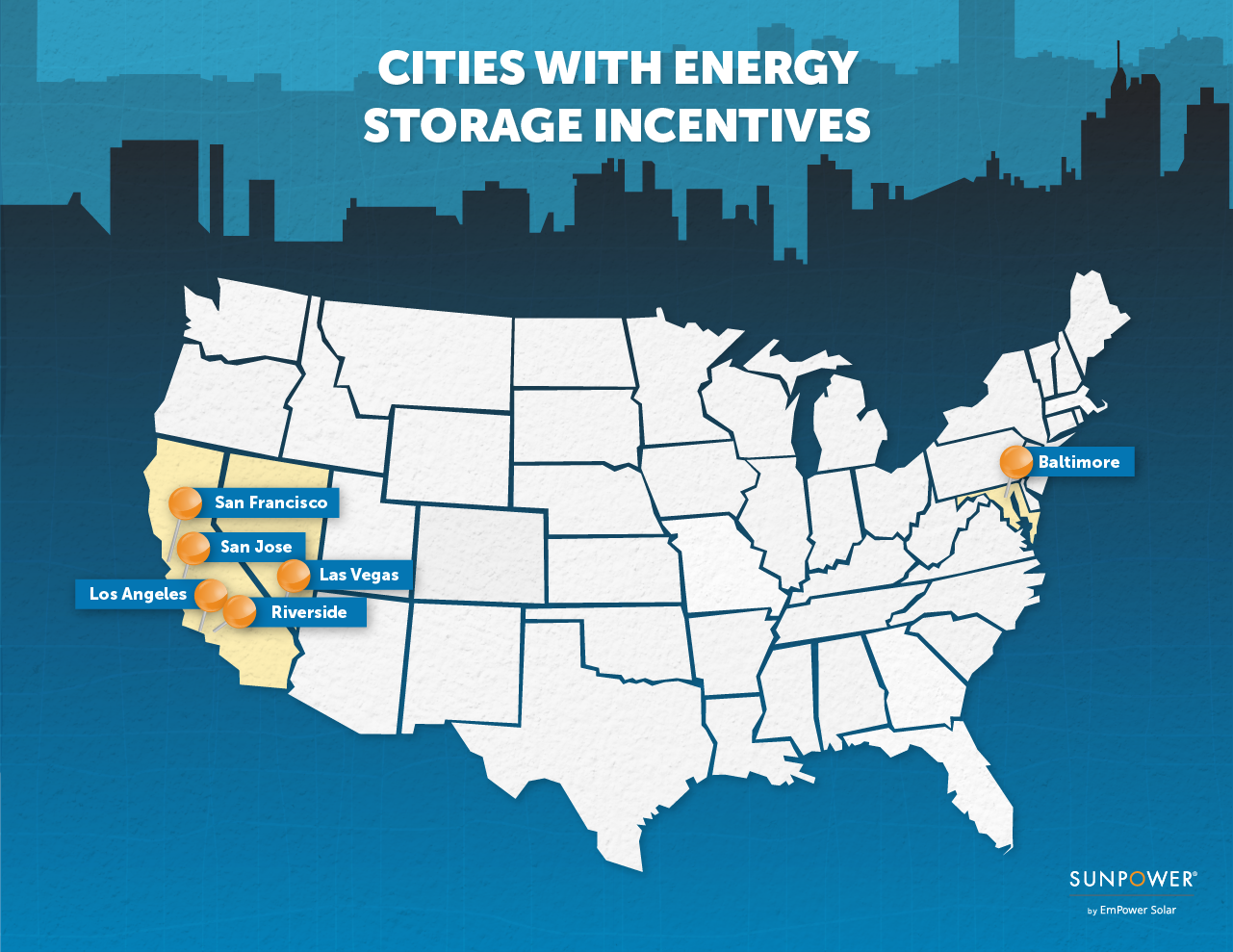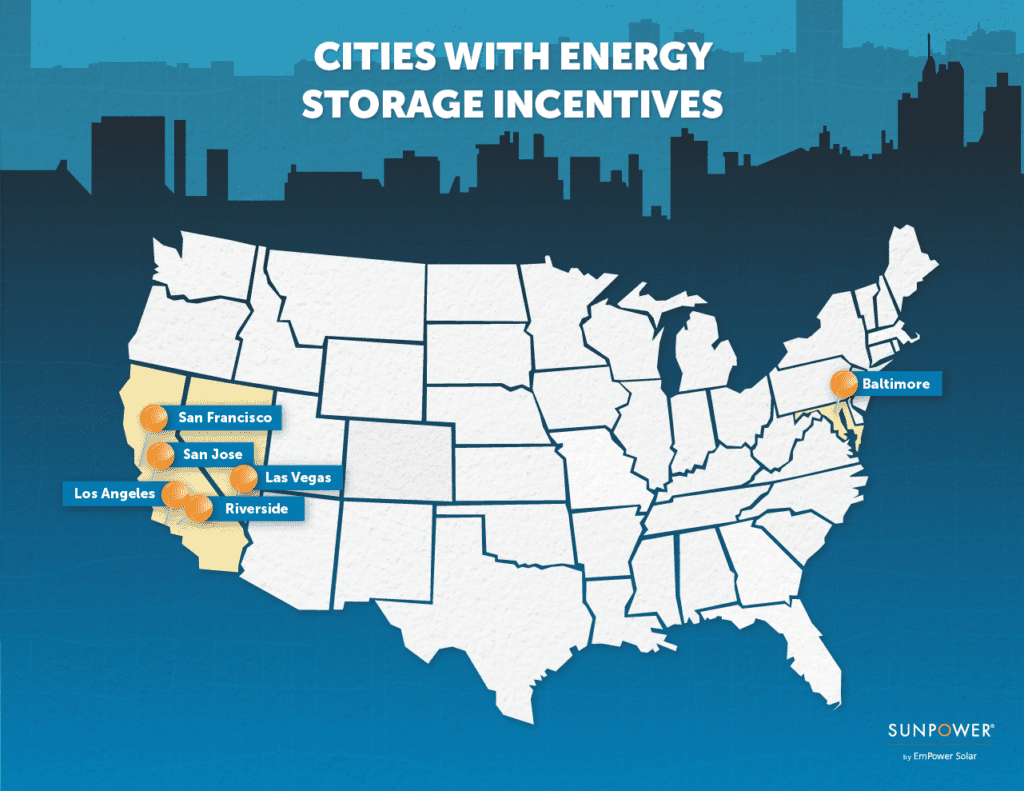 Energy storage incentives will be a growing trend in the coming years and the cities above are ahead of the curve.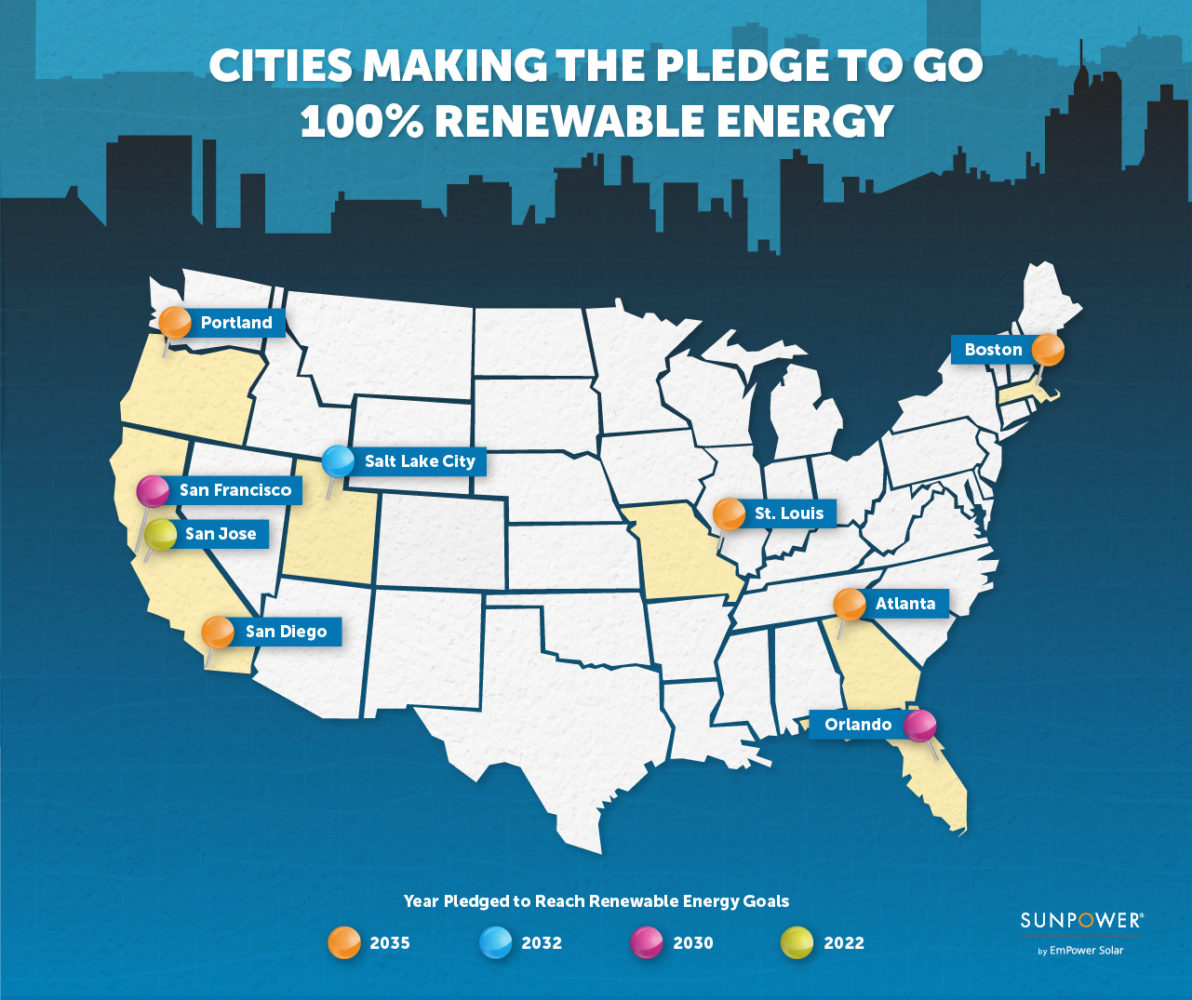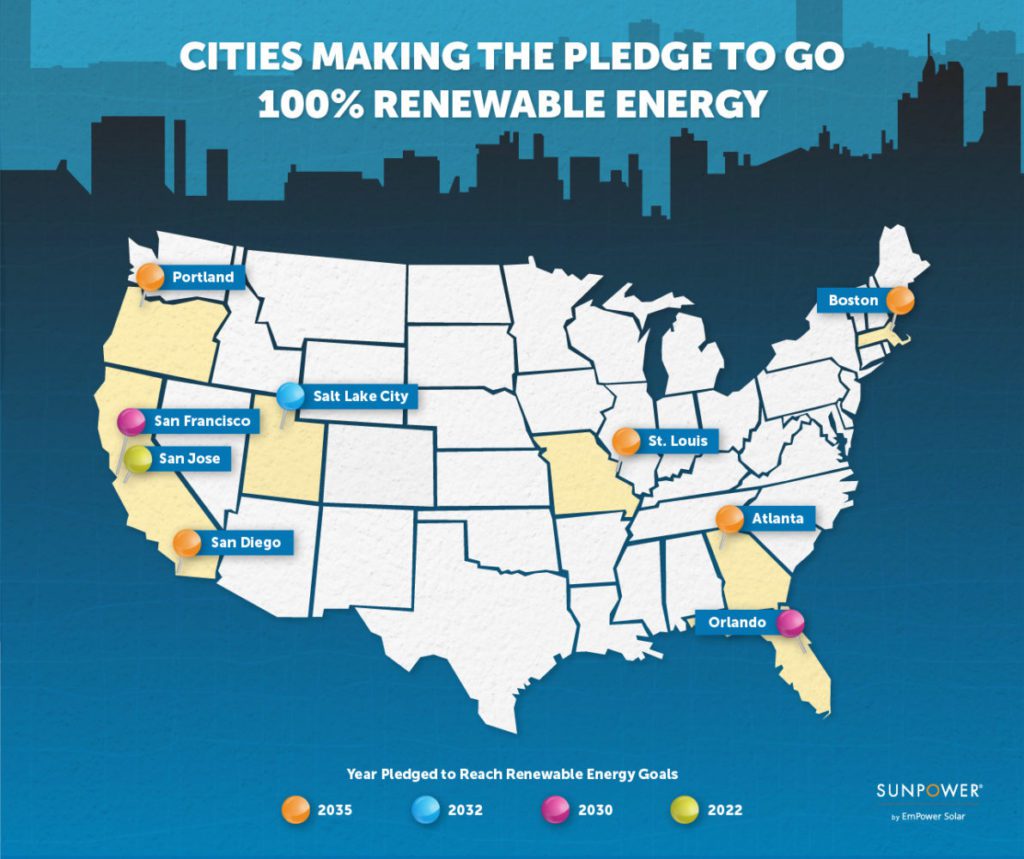 A few of those same cities have made the pledge to go 100% renewable energy and are making progress towards that goal. Each city has a unique deadline for their energy goals, but making that pledge is a great first step to take. Some of these cities have made the pledge but are not in our top 25 cities, so it seems they have a lot of work to do in order to reach their goals.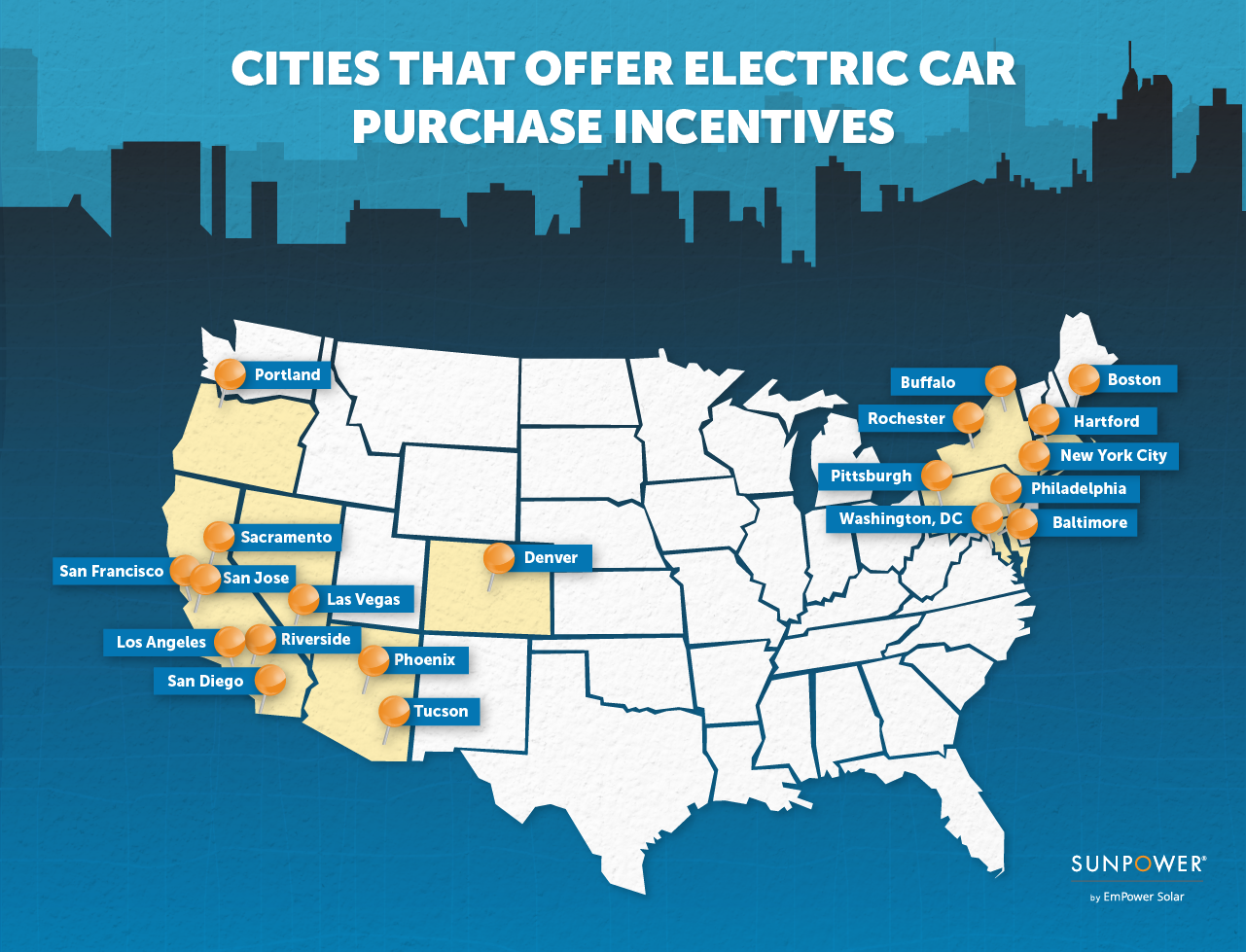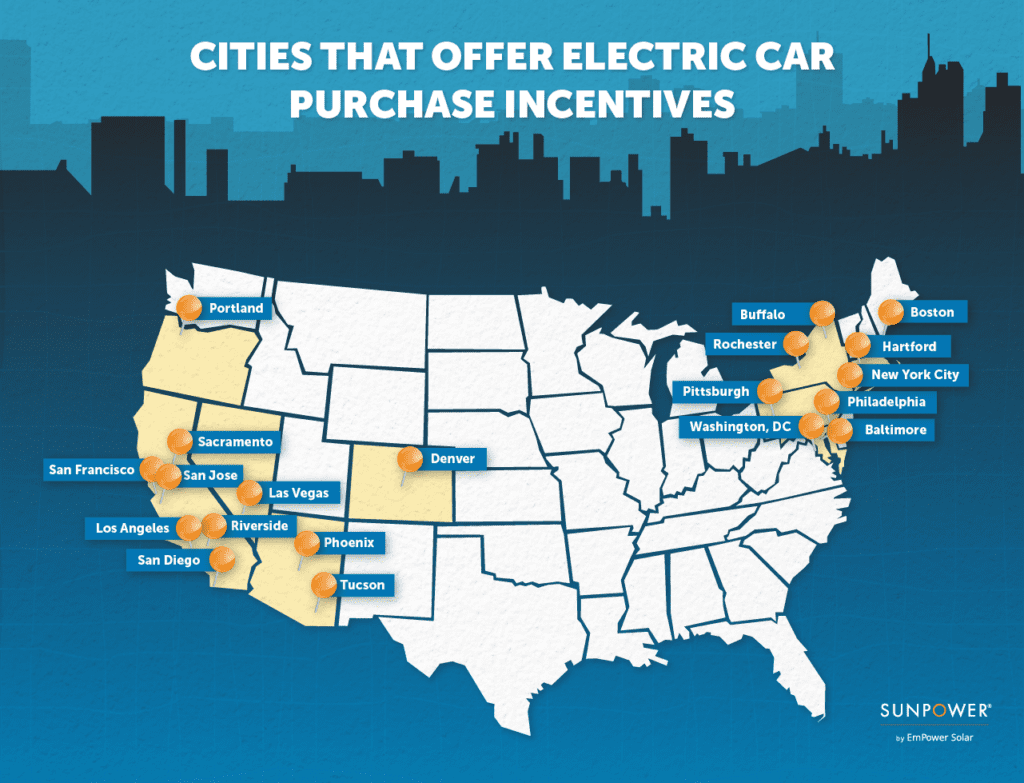 More cities are offering incentives for electric car purchases, so if you're in the market for a new ride in one of these cities, it's time to consider the environmentally friendly option.
Overall, all of these cities are doing their part in helping to save our planet and we're so happy to see that. After all, climate change is a global issue, but it can't be resolved without changes and initiatives on the local level. Congratulations to these cities and we can't wait to see the steps that the rest of the US makes towards energy efficiency. If you're a Long Island or New York City local and want to do your part, check out our home solar options.
About the Author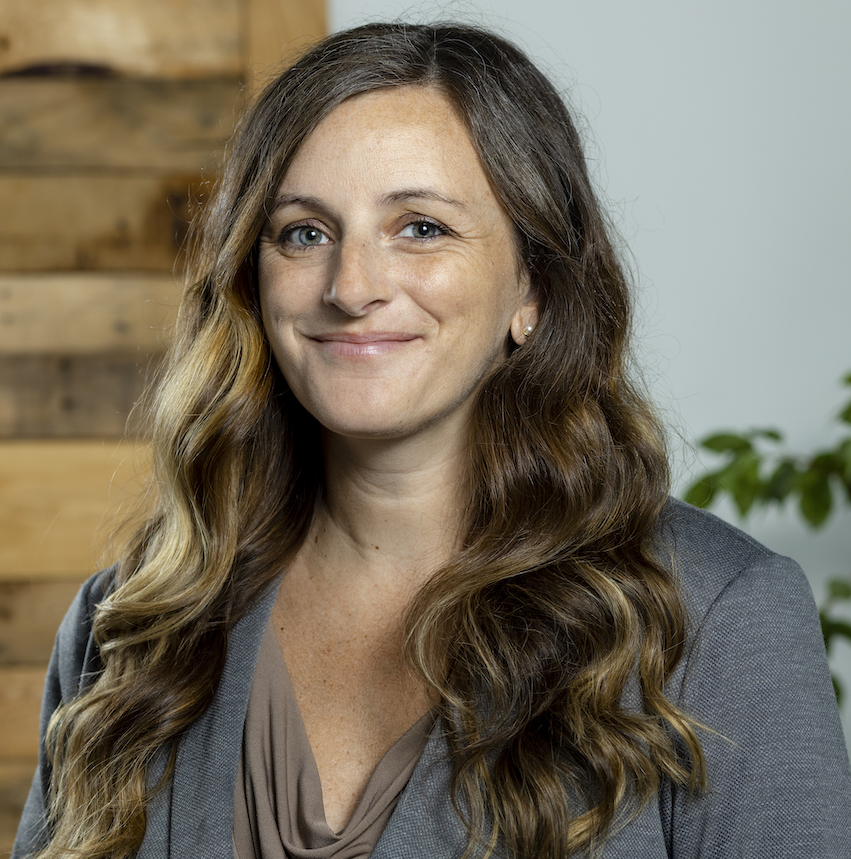 Tara represents EmPower Solar as the Chair of the Long Island Solar & Storage Alliance where she is the government liaison for policy issues related to solar and energy storage. In 2018, Tara was named one of the Top 50 Women in Business by the Long Island Business News. She was also inducted into the Social Justice Distinguished Scholar Academy for her work in environmental justice issues in collaboration with Farmingdale State College.