Solar Panel Squirrel & Critter Guards

Mar 14, 2018
by EmPower Solar
Critters can cause damage under your home solar panels. Installing a squirrel guard on your solar system can help avoid that.
When switching to solar, your rooftop panels are open to the elements; be it sunshine, rain, or snow. However, one thing that often goes overlooked is that they are also vulnerable to local wildlife in your area. EmPower has been installing systems since 2003, and critter damage is one of the most frequent problems we have seen over the years, so we always recommend including them with your home solar panels.
What Critters Do Critter Guards Protect Against?
From Bayside in Queens to Massapequa on Long Island , there is no shortage of birds, squirrels, raccoons, etc. that are always seeking a new shelter. We unfortunately see small critters making use of solar panels as a home because of the warmth and protection from the inclement weather more often than not.
In particular, birds and squirrels are known to cause the most damage when they chew through wires, build nests, damage shingles and cause roof leaks. Animal damage not only causes concern for production of your solar panels but chewing through the wire can expose the copper interior causing a potential fire hazard. When birds build nests, they bring up the various sticks, leaves, dirt and other objects into the array, this can create build up which can lead to roof leaks under the array.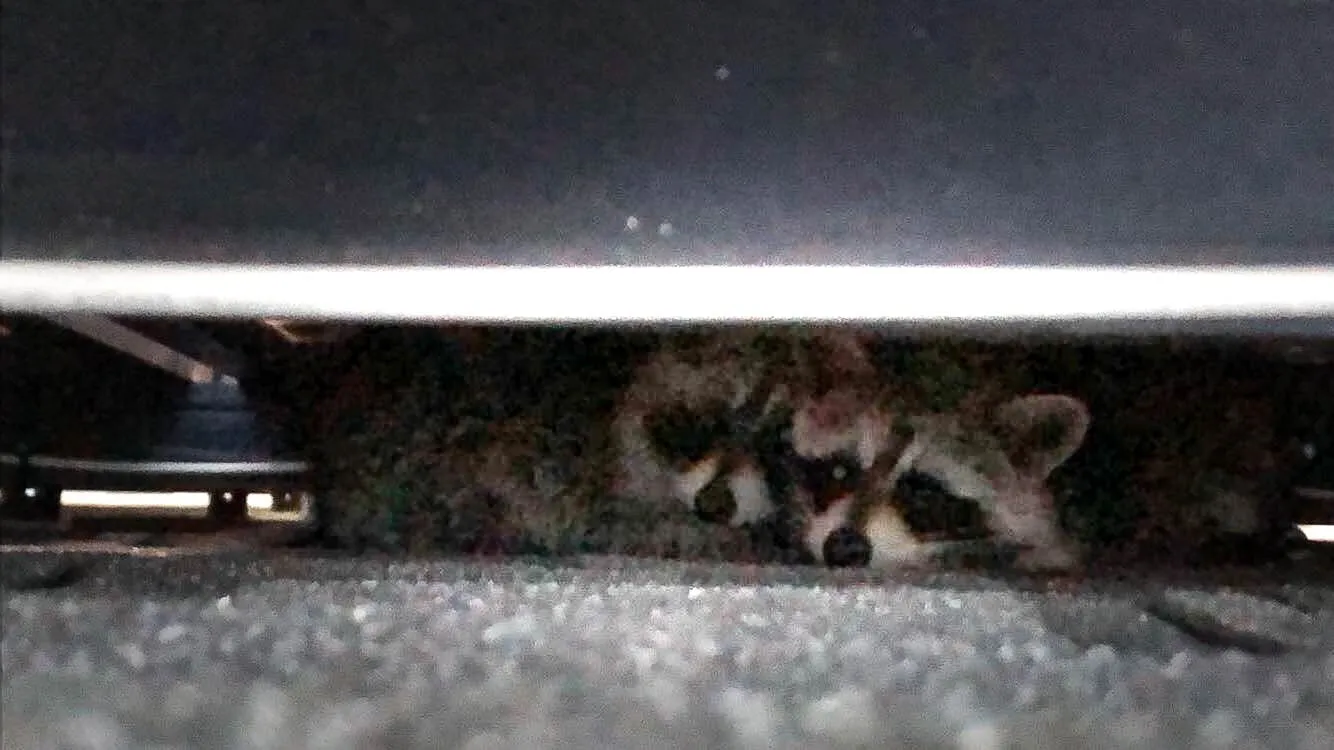 Not only do small critters such as birds and squirrels enjoy the luxuries of your home solar panel installation, but it can become an attractive piece of real-estate for larger animals such as raccoons. These larger critters can cause extensive damage under the array by ripping up shingles, leading to major water leaks, tearing wires causing loss of production. In our region, raccoons are not as common because of the difficulty of getting up onto your roof will deter them.
We recommend squirrel guard for each one of our clients but ultimately, the decision is up to them. This is our most common service call and client problem; one that can easily be avoided with the simple solution of installing a critter guard.
What Are Critter Guards Made of?
Squirrel guard is PVC coated aluminum fencing the wraps around your array to deter any critters large and small from making it their permeant residence. The squirrel guard is fastened to the frames of the panels and closes the gap between the roof and your solar panels. The PVC coated squirrel guard is very similar to a high gage chicken wire which will hold up to even the most persistent animals.
These little critters may be cute, but they can cause big problems. Restoring power loss, patching up roof leaks, and removing unwanted animals can be a costly expense not typically covered by a solar panel warranty. With the insulation of squirrel guard around your solar array, you will not have to worry about unexpected repairs caused by curious critters.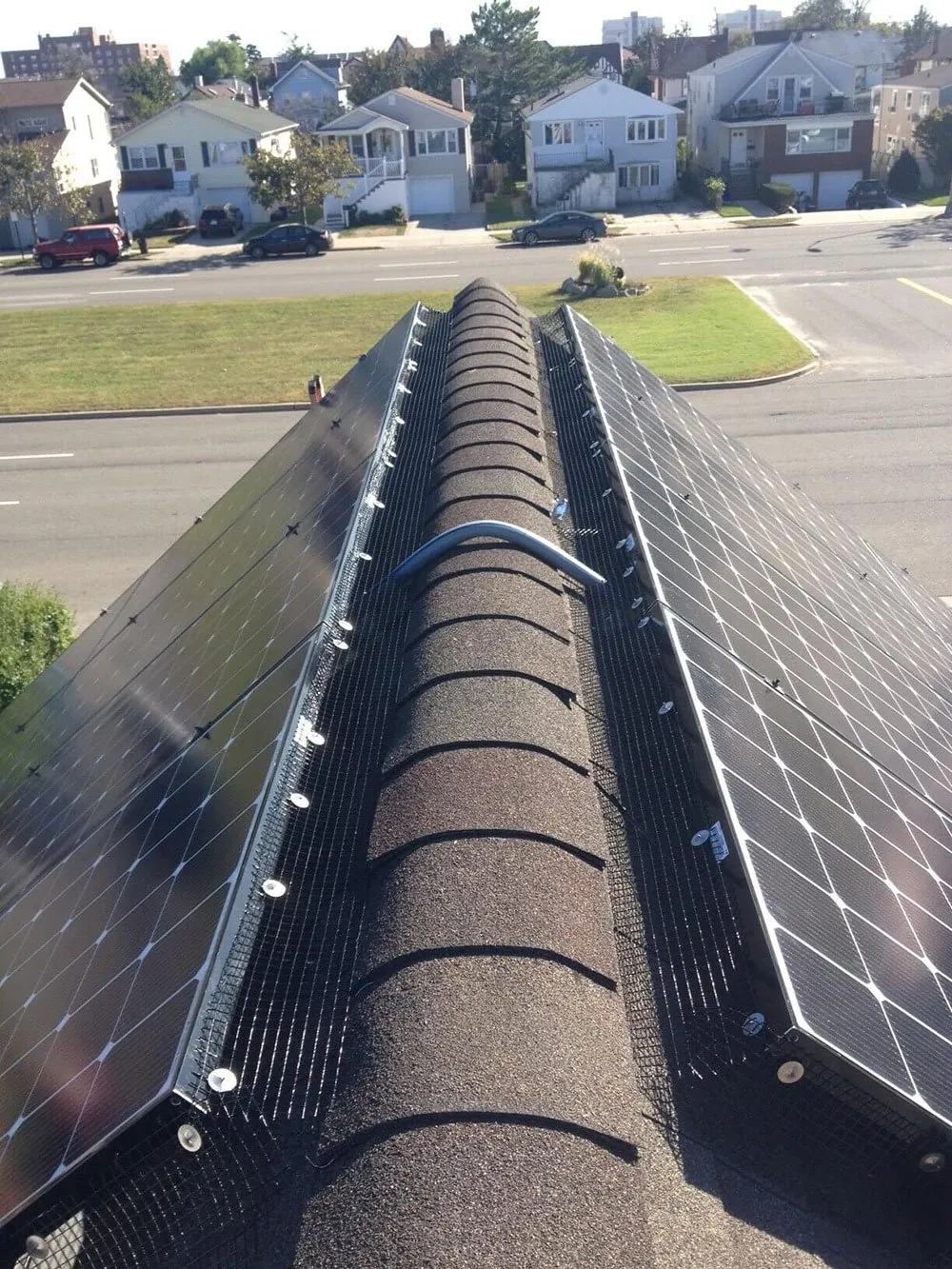 Critter Guard Owner FAQ
There are leaves behind my critter guard. What should I do?
The critter guard is meant to prevent animals from nesting under your solar panels and causing havoc to your investment. The guard is not meant to stop leaves. Critter guards are a critical component of a solar system and may soon be mandated by NYS law. We can not prevent leaves from coming in through the cracks between panels and collecting under the guard. We understand that this may cause an aesthetic concern for some homes and we can offer a system cleaning inclusive of removing leaves and debris from underneath the guard. Please contact us at 516.837.3459 x3 to request a quote for this service.
There are animals beneath my critter guard. What should I do?
Give us a call! We are here to help relocate unwanted visitors and reinforce your system against future breaches.
What should I do if there is damage to my critter guard?
Critter guards do not fall within our workmanship warranty, but we would like to help! Please contact us at 516.837.3459 x3 with additional details so that we can assess the extent of the damage and figure out the cause.
About the Author

EmPower Solar develops, engineers, installs, and services solar and battery systems for residential and commercial clients. Since 2003, EmPower Solar has empowered thousands of New York homeowners and businesses with 47 megawatts of distributed solar. Its vision is to create a new energy paradigm powered by clean, renewable energy for a more prosperous, healthy, and civil world. The company culture is defined by the EmPowering Way, which results in consistent 5-star customer service reviews. For more information visit empower-solar.com.