Charting a Course for Solar: Advanced Energy Conference 2022

Sep 12, 2022
by EmPower Solar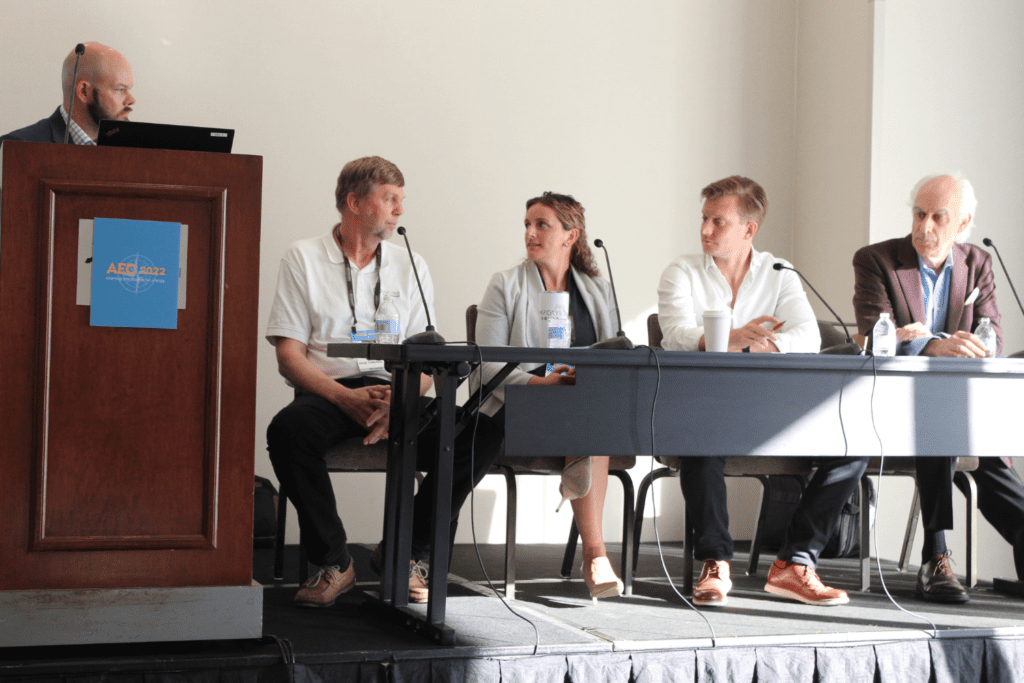 Last week, energy leaders from around the world gathered for the three day Advanced Energy Conference (AEC) in New York City, hosted by Stony Brook University's Advanced Energy Research and Technology Center (AERTC). The theme of the conference this year was "Charting a Course for Energy," with conversations centered on the future of energy sourcing.
EmPower Solar's Director of Customer Experience and Stakeholder Relations, Tara McDermott, was one of 200+ individuals invited to speak at the conference. At the Business Models and Regulation for Renewables session, Tara joined key stakeholders in the solar and wind industries to address the current and changing landscape for renewable energy development.
We'll walk you through the key takeaways from the session. Including how EmPower is working towards an accessible future for solar energy in NYC and on Long Island.
What are the principal barriers to increased adoption of renewable energy?
A major barrier when it comes to residential solar installation is the permitting process. Part of what makes the permitting timeline complicated is that it varies by jurisdiction. At EmPower, we have a dedicated permitting department who works directly with your town's local building department to obtain the necessary construction permits for your project. We submit the engineering plans and manage all of the paperwork for you.
We also encounter changing codes, especially when it comes to solar storage. For example, backup batteries like the Tesla Powerwall have historically been prohibited in NYC by FDNY regulations. There may be some progress in the works but no official change yet as far as we are aware.
On-going service is another issue. We receive calls from solar clients who weren't installed by us but still need servicing, often because the company they went solar with no longer exists. However, if you went solar with us, your system is covered by one of the most comprehensive warranties on the market. The SunPower complete service warranty covers any issues with your system. It includes an easy process so there is no need for receipts, proof of purchase or written claims. SunPower will send a certified installation contractor to fix the issue. The warranty will cover the cost of labor, shipping and parts for 25 years.
What's driving demand for renewables?
Tara: "We poll our clients at the end of the year on why they go solar. Half say savings, half say environmental reasons. Layered in that is avoiding utility costs. We did a study a few years ago in our region because there is a misconception that if you go solar, you have a lot of money to spend on solar and you do it because you want to. But that's actually not the case. Most people who go solar do so because they can't afford the high energy costs in our area. Getting on a budget or a fixed monthly payment for their energy costs is much better for their family or household. There's 60,000 or 70,000 homes on Long Island who have gone solar and the majority of them are in zip codes that are considered a lower-income area."
Security, urgency, and resiliency are other factors that drive our clients to choose solar solutions. There's the idea that renewable energy is a democratizing force in energy supply. This is especially true as more homeowners are looking toward independence from the grid. Many of our clients combine backup batteries with their solar system to ensure that their homes remain powered during storm season outages.
What progress has been made in increasing access to renewables?
We can't ignore the progress that the solar industry has made in a relatively short period of time. Incentives for solar have increased, especially with passage of the Investment Reduction Act last month. The solar tax credit increased from 26% to 30% for the next 10 years. This includes clients who went solar in 2022.
Solar financing has come a long way as well. Now there are a number of ways to finance your solar system, such as leasing, financing, purchasing, and a solar power purchase agreement (PPA). At the moment financing is the go-to among our clients.
It's our goal to remove barriers for our clients. This is why we are continuously considering and addressing the unique needs of our clients. This enables us to provide the best solutions with unparalleled service.
Ready to go solar? Contact us for a free consultation.
Interested in more from the AEC session? View the full livestream on our Facebook page.
About the Author

EmPower Solar develops, engineers, installs, and services solar and battery systems for residential and commercial clients. Since 2003, EmPower Solar has empowered thousands of New York homeowners and businesses with 35 megawatts of distributed solar. Its vision is to create a new energy paradigm powered by clean, renewable energy for a more prosperous, healthy, and civil world. The company culture is defined by the EmPowering Way, which results in consistent 5-star customer service reviews. For more information visit empower-solar.com.