Solar Panel Installation in NYC

Dec 30, 2022
by EmPower Solar
New York State is famous for a lot of things- our diverse geography, delicious pizza, and being home to the cultural epicenter of the world. New York really should be famous for our investment in solar energy. Homeowners across Long Island and New York have all benefited from NYS's generous rebates and policies that allow them to reduce their carbon footprint and save money. 
It's no different in New York City. There are more restrictions and limitations on solar in NYC, but that hasn't stopped the five boroughs from continuing to take advantage of solar to reduce their electricity bills year-round. 
The ideal home for solar in New York City
If you're a homeowner in NYC, there are a couple of things our design team will look at before you go solar. In order to install solar, your home must have a non-tile pitched roof between 20 to 40 degrees. The best roofing materials for panels are asphalt shingles, rolled asphalt, and metal seam roofs. The ideal roof will also have minimal obstructions, like tall surrounding buildings or chimneys, blocking the sunlight. 
Check out the customized home solar solution on a home in NYC to see what a preferred roof looks like: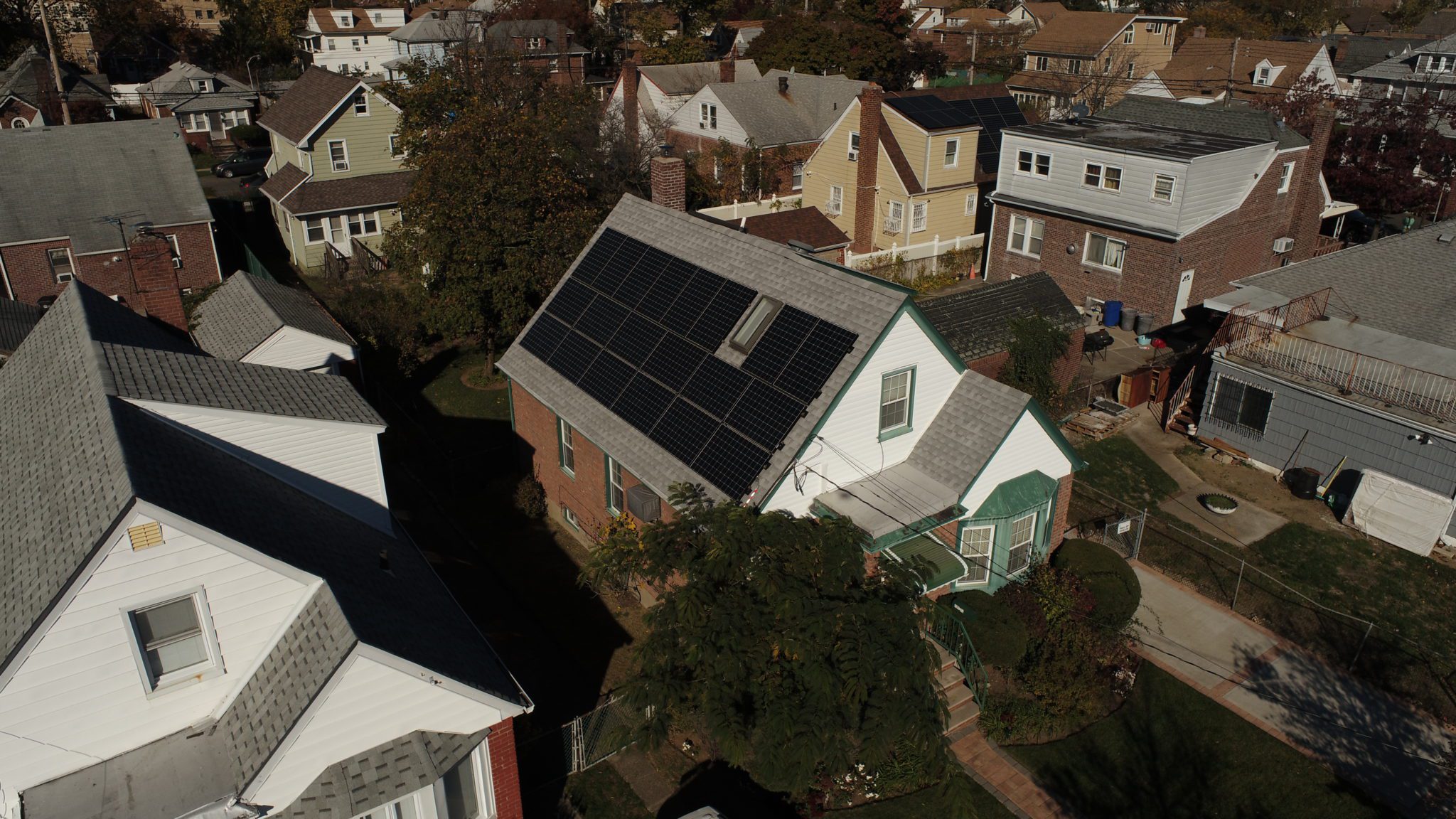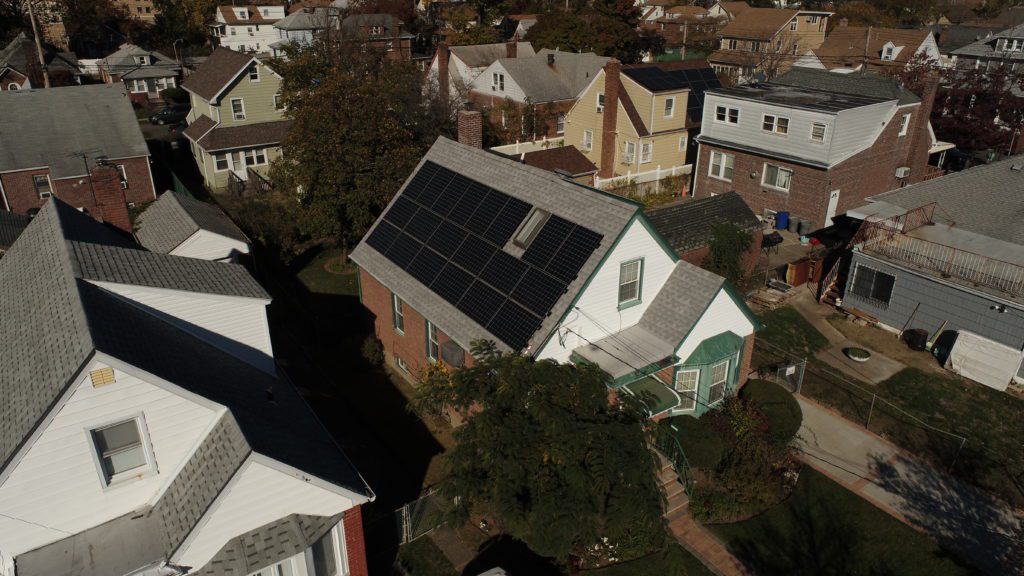 Restrictions on solar
Solar panel installation in NYC can be a bit more difficult than on Long Island. A new fire code was enacted in April of 2022 that establishes new safety guidelines for flat roofs across the city. These regulations prevent our team from installing solar panels on flat roofs, and also impact other things such as railing requirements.  
New York City home solar incentives
That being said, solar panel installation in NYC is not impossible. It's no secret that living in the city gets expensive, and going solar can help reduce electricity bills year-round. Through net metering, many solar owners are able to lower their monthly electric bill to only $20 a month, which is the required grid connection fee. 
New York City solar owners can also take advantage of different incentives. In addition to the 30% federal tax rebate and $5,000 incentive from New York State, homeowners have access to an exclusive Solar Electric Generating Systems Tax Abatement program through the city. This program provides NYC residents who add solar systems to their homes a four-year property tax abatement, up to $62,500 for four years.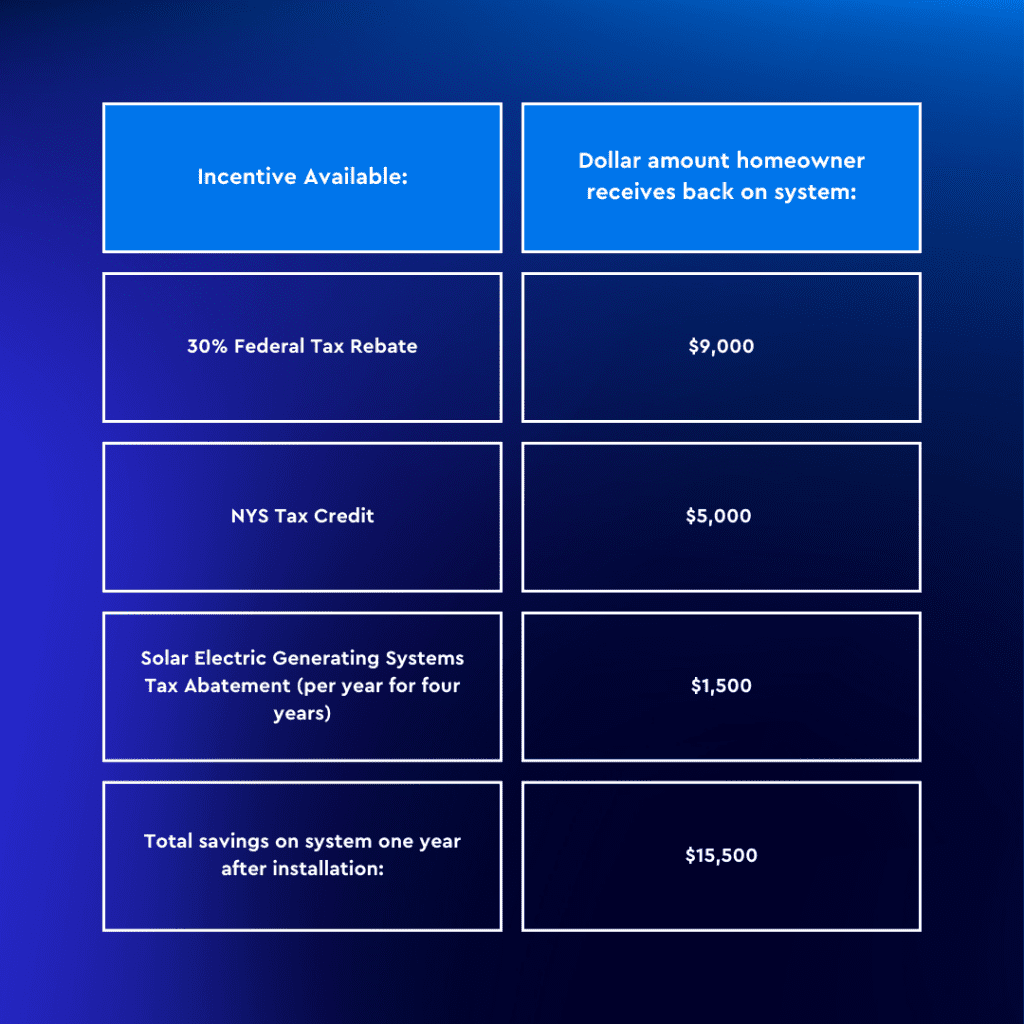 EmPower Solar offers three main ways to pay for your system; leasing, financing, or purchasing outright. No matter which option you choose, for $0 down, you can see savings from day one. Over the course of your system's 25 year lifetime, you can expect to save close to $100,000. 
Community solar opportunities
Homeowners in the city with roofs not compatible with solar can still reap the benefits of solar and lower their electric bills by participating in a community solar project. A community solar project consists of a large-scale solar array that is connected to subscribers. Subscribers are members of the public who use the energy produced by the project to offset a portion of the energy they use from the electrical grid. 
Community solar is perfect for those who are unable to have their own home solar panels due to:
Lack of homeownership/renting

No roof space or shaded roof space

Older roof or incompatible roofing material

Condo/co-op board rules

Municipal zoning codes prohibitive of solar
When you enroll in a community solar program you can expect to save roughly 10% on your electric bill each month. Enrolling in a program is free and you can learn more here.
Wondering if your house is right for solar? You can sign up for a free consultation on our website, or contact us for more information. 
About the Author

EmPower Solar develops, engineers, installs, and services solar and battery systems for residential and commercial clients. Since 2003, EmPower Solar has empowered thousands of New York homeowners and businesses with 47 megawatts of distributed solar. Its vision is to create a new energy paradigm powered by clean, renewable energy for a more prosperous, healthy, and civil world. The company culture is defined by the EmPowering Way, which results in consistent 5-star customer service reviews. For more information visit empower-solar.com.