Renovate Smarter – Invest in Solar

Mar 30, 2017
by EmPower Solar
KITCHEN, BATH, OR A HOME-IMPROVEMENT PROJECT THAT PAYS FOR ITSELF?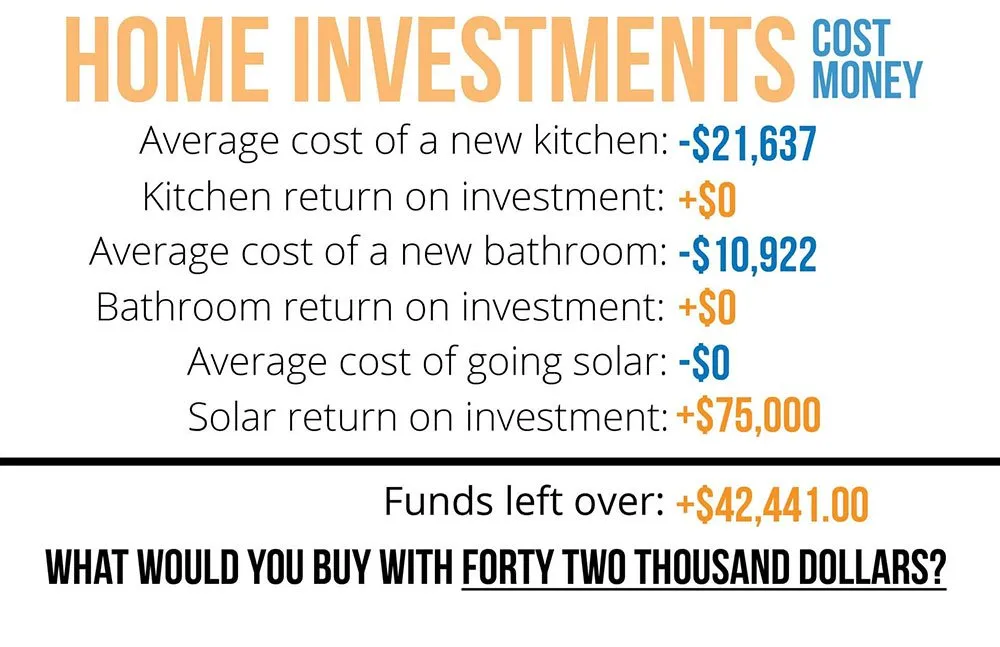 Making investment decisions can seem like a gamble at times, especially when investing in your home. Not to mention, renovating and improving your home takes time, money, and trust that your contractors will do a good job. The monetary return on investment doesn't come until you sell the house, and it all depends on an unpredictable housing market.
Adding solar panels to your home could put money back into your pocket immediately, money that could be used for that bathroom, kitchen, pool, or new flooring you have been dreaming of. This extra money could lessen the financial burden at the end of each month, and reduce financial stress from monthly utility bills.
"I had accepted electric bills as an unquestionable monthly expense. Once I started researching solar, I realized it was a no-brainer. I paid $13,300 to get my system installed in 2011 but it's already paid for itself, leaving me with no monthly electric bills or solar payments. Friends have spent the same amount on kitchens or bathrooms and are still paying those projects off. I now have about $220 in monthly savings each month that I can put towards home projects or my children's education. We couldn't be happier with our decision." says Walter T., an EmPower Solar client from Wantagh, NY.
Utilizing the power of home solar panels in a place like New York has never been more important. We live in an area where the cost of living exceeds almost all other parts of the country, and high utility costs haven't been getting any lower. In fact, there are proposals in the works calling for residential electric bills to increase by 5.2 percent, and gas heating bills by 7.7 percent next January.
Each month you are throwing money at keeping your house running, but you're missing out on an opportunity to let your home power itself.
For those who prefer not to purchase a solar system upfront, there are a multitude of financing options including a Nassau Financial Solar Loan or a SunPower lease that provide a few hundred dollars a year in savings.
Whether you choose long term savings or short term savings, you have a chance to put that money into the kitchen you've always wanted, reduce home operating costs and add value to your home.
When it comes to adding value for a home sale; while renovating a kitchen or bath may add value to your home, it is not guaranteed due to tastes and preferences of buyers. Neither of these projects have a tangible savings, while adding solar panels has an actual and identifiable cash flow.
Want to know if you qualify for a Long Island or New York City solar program? Contact us to learn more about the programs for which you may qualify.
*$75,000 savings is estimated based on a 20 year time-frame.
About the Author

EmPower Solar develops, engineers, installs, and services solar and battery systems for residential and commercial clients. Since 2003, EmPower Solar has empowered thousands of New York homeowners and businesses with 47 megawatts of distributed solar. Its vision is to create a new energy paradigm powered by clean, renewable energy for a more prosperous, healthy, and civil world. The company culture is defined by the EmPowering Way, which results in consistent 5-star customer service reviews. For more information visit empower-solar.com.