Tesla Announces Updates to Powerwall Policy and Software Upgrades

Apr 30, 2021
by EmPower Solar
Tesla's Big Solar and Storage News
As of last month, Tesla's online ordering portal began accepting orders for new Powerwall units only when paired with solar systems. Last week, they officially announced that Powerwall units would only be sold in bundles with solar panels or their solar roof product, which is only available in limited markets.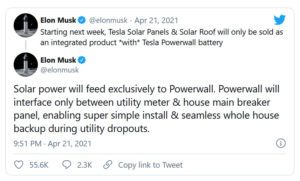 Why are they making this decision? Aside from the fact that is indeed best practice to install solar and storage as an integrated system, Tesla is facing production demands for the Powerwall that are increasingly difficult to meet.
Affecting production is a global micro-chip shortage that is impacting electronics industries worldwide. This shortage has been spurred on by an increased demand in electronics during the pandemic, and has affected vehicle manufacturers around the world. Tesla has not been able to avoid the impact, and had even temporarily shut down a California factory last month.
Despite high demand and long lead times for clients, many are willing to wait. Powerwall remains the most popular home battery storage system on the market by far, due in part to the lowest price per kWh available.
Tesla has also announced that the Powerwall is performing better than expected, as proven through field data, and upcoming software upgrades will enable increased efficiencies for users. According to a tweet by Elon Musk, "Now that we have lots of operational data, Tesla can unlock higher capabilities for free via software update next month. Depending on production date, power increase power may be >50% at 30C ambient temp."
EmPower Solar and Tesla
EmPower Solar was one of the first Tesla Powerwall Certified Installers in the Northeast, and we are proud of our strong, long-term relationship with Tesla leadership. More than five years ago, our team members attended Tesla trainings to achieve certifications, and continue ongoing education with the Tesla team. To date, we have installed hundreds of Tesla Powerwall units for our clients.
As a partner in good standing, our supply remains unaffected. We continue to receive limited supply of Tesla's in-demand Powerwall units, and have dozens of units on order that are scheduled to be installed across Long Island and Westchester in the coming months. We are excited to continue to offer Tesla Powerwall units to our clients, both new and existing.
EmPower Solar's Current Storage Policy
At this time, we are offering clients the ability to install solar plus storage at the same time, or for existing clients to add a storage enhancement to their already-installed solar system. Currently, we are not able to add storage for non-EmPower Solar clients (i.e. if you got solar panels with another solar company, we are unable offer you a storage system).
Clients interested in a solar plus storage system, or in a battery enhancement to their existing solar system, can contact our team at CX@empower-solar.com or 516 837 3459 to set up a consultation.
About the Author

EmPower Solar develops, engineers, installs, and services solar and battery systems for residential and commercial clients. Since 2003, EmPower Solar has empowered thousands of New York homeowners and businesses with 47 megawatts of distributed solar. Its vision is to create a new energy paradigm powered by clean, renewable energy for a more prosperous, healthy, and civil world. The company culture is defined by the EmPowering Way, which results in consistent 5-star customer service reviews. For more information visit empower-solar.com.