Tesla Powerwalls vs. Gas Generators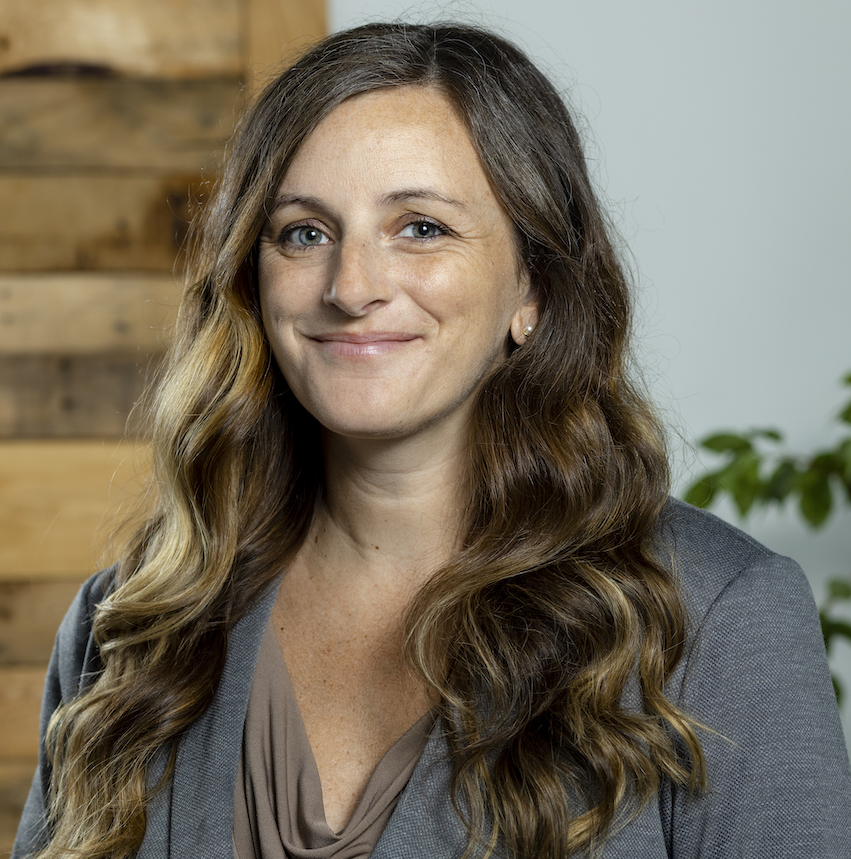 Sep 01, 2022
by Tara McDermott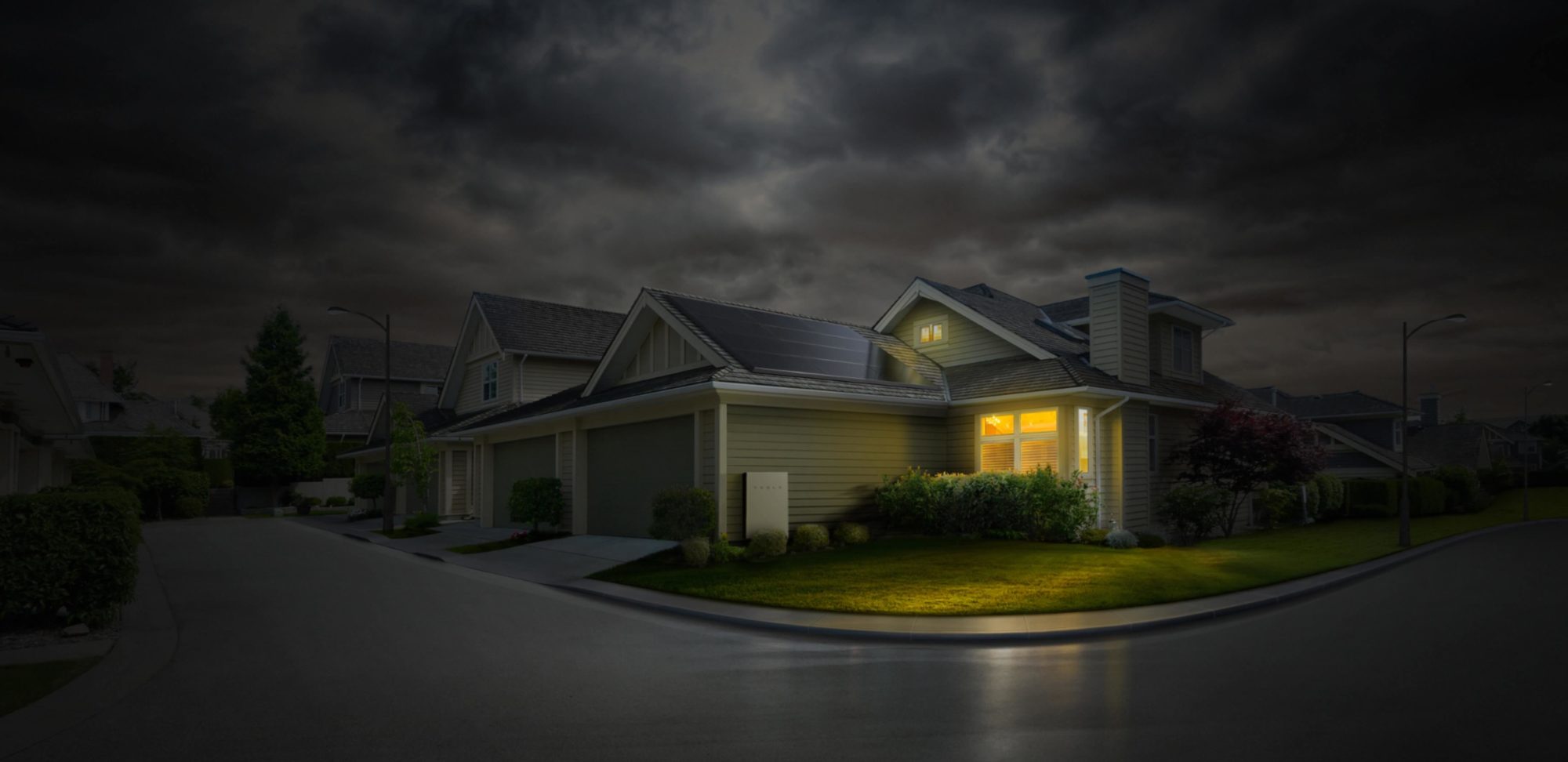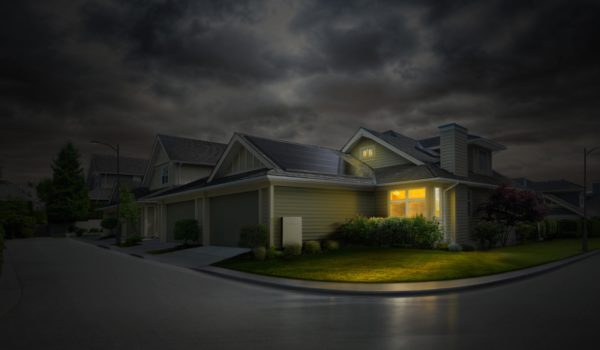 Ask any homeowner the best part of living on Long Island, and chances are they'll say being able to experience all four seasons. From hot summer days on the beach to beautiful winter snowfalls, the island has it all. Unfortunately, this also means storms of all kinds that knock out power lines for days at a time.
To save on electric bills and increase energy resiliency, many homeowners across Long Island are installing solar panels on their home. Going solar is more affordable than ever, and homeowners can expect to see savings from day one. Adding a Tesla solar battery, or Powerwall, is the best way to ensure your home maintains power during emergencies.
Tesla Powerwall
Solar panels are most efficient during the day when the sun is high. Unfortunately, this is also the time when the least energy is being used, as many are out of the home, typically at work or school. The Tesla Powerwalls are made using a rechargeable lithium-ion battery. This allows for the battery to store more energy and power appliances for longer than lead batteries.
After installing a Tesla Powerwall, this excess energy is stored in the battery to be used later, like during a blackout. If a power outage does occur, your Powerwall will detect the outage and disconnect from the grid. The battery will then restore power to your home, while your solar panels continue to collect and store energy. This ensures your home's resiliency and decreases reliance on traditional energy sources. 
The batteries are also very sleek, adding to your home's aesthetic value. Typically, Powerwalls can be installed on any wall, usually outside your home or inside a garage. You can also use Tesla's mobile app to monitor your energy storage in real-time.
The cost of one Tesla Powerwall is $17,600, without any incentives and rebates. When you install a backup battery, you can receive a tax rebate of $250 per kilowatt, up to $6,250, from NYSERDA.  Plus, once you install and pay for a Powerwall, there are no added costs. Your energy needs may change over time, and you may need to add a second battery backup to your home. 
One Powerwall will supply enough power for a small home to power their essential appliances, some homeowners choose to install a second or third for maximum energy. In fact, for most homes, we recommend at least two Powerwalls.
Essential: 1 Powerwall

Comfort: 2 Powerwalls

Premier: 3 Powerwall

10 LED Lights

1 Refrigerator

1 Microwave

1 Television

1 Internet Router

1 Computer

50 Smart Phone Charges

15 LED Lights

1 Refrigerator

1 Microwave

1-2 Televisions

1 Internet Router

1-2 Computers

75 Smart Phone Charges

Electric Vehicle for 70 miles

Window AC for 5 hours

20 LED Lights

1 Refrigerator

1 Microwave

1-2 Televisions

1 Internet Router

2-3 Computers

100 Smart Phone Charges

Electric Vehicle for 140 MIles

Window Ac for 10 Hours
Gas Generators
To keep the lights on, many homeowners choose to invest in portable gas generators. The generators work short term, but they're expensive. The price of the generator alone can run you anywhere from $1,000-$6,000 plus the cost of fuel. Installing a Powerwall is a one-time payment, unlike when using a gas generator, which will always need to be refueled. 
According to NYSERDA, at the time of publication, gas in the New York City metropolitan area was, on average, $4.14/gallon. A five kilowatt generator will use 0.75 gallons per hour, so if your power is out for a full 24 hours, the price of total fuel used will be $74.52. Plus, depending on your home's energy needs, you may need more than one generator. 
Let's compare the Tesla Powerwall backup battery to the generator named the "Best Overall" by Popular Mechanic, the Honda EU2200i companion.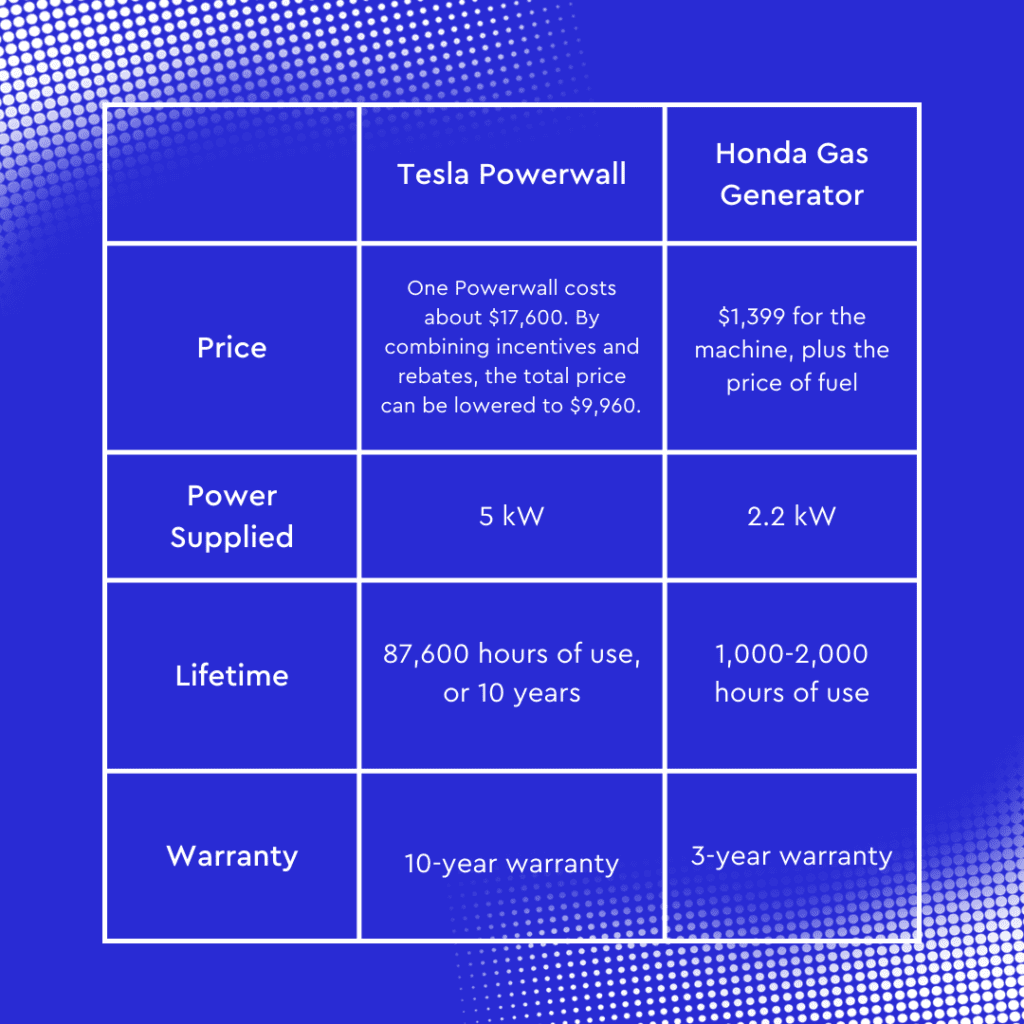 Gas generators are also loud, and need to be exercised (run even when not needed) in order to remain efficient and functioning properly. Some Powerwall owners report a faint humming coming from their battery, but that's it. You also don't need to worry about the smell of gasoline with a Powerwall, or waiting in long lines at the gas station. Battery backups provide a peace of mind, knowing that no matter what happens, your home will have power. 
Improve Resiliency with Solar + Battery Backup
During hurricanes and other extreme weather events, or even ordinary outages, backup energy storage is critical, especially on Long Island. Pairing a solar system with a Tesla Powerwall (or two) is the best way to increase your home's energy resiliency in case of emergencies. It's important to keep in mind that solar panels don't work when grid connection is down. When combined with solar, the Tesla Powerwall will continue recharging with sunlight and can provide power indefinitely until the grid is restored.
Integrating a Powerwall with solar panels is the best way to maximize your system's value and your energy savings. EmPower Solar is currently able to offer Powerwalls to new or existing solar clients.
If you're a current client, feel free to reach out to our Customer Success team to get started. New to solar? Schedule a free consultation to see if your home is right for solar + battery backup.
About the Author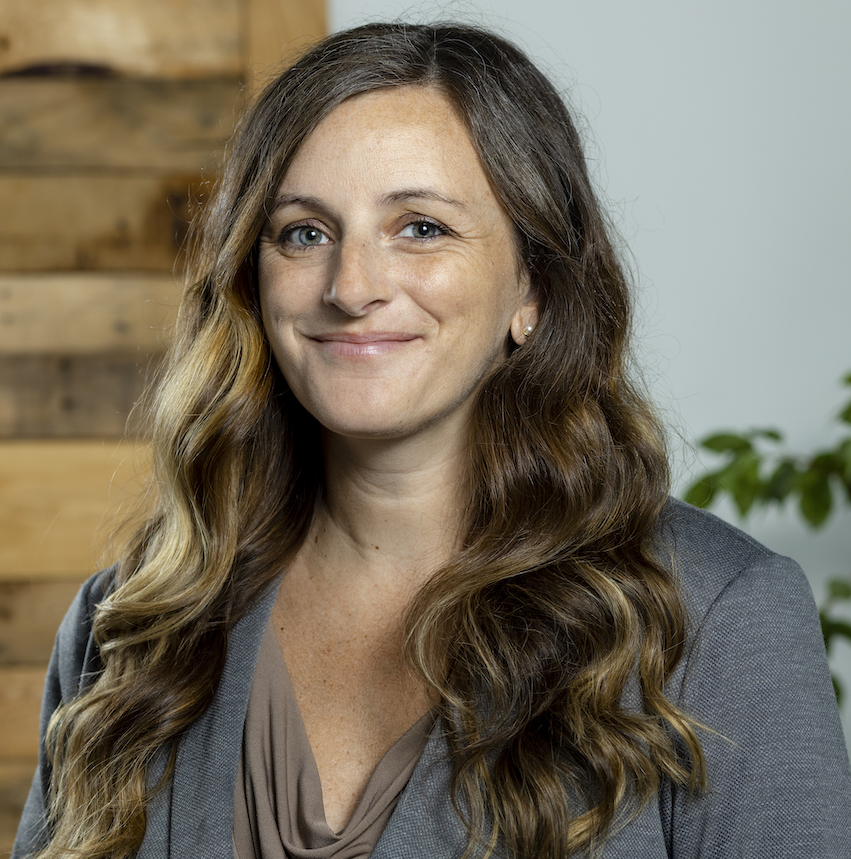 Tara represents EmPower Solar as the Chair of the Long Island Solar & Storage Alliance where she is the government liaison for policy issues related to solar and energy storage. In 2018, Tara was named one of the Top 50 Women in Business by the Long Island Business News. She was also inducted into the Social Justice Distinguished Scholar Academy for her work in environmental justice issues in collaboration with Farmingdale State College.