The Power is Out Again …Are You Prepared?

May 06, 2016
by EmPower Solar
When most people think of power outages, they often relate loss of power to severe thunderstorms, blizzards, and hurricanes. While residents surviving Hurricanes Irene and Sandy are accustomed to losing power during inclement weather, seasoned Long Island homeowners are very aware that loss of power isn't just reserved for storms. The electric grid is highly complex and generally reliable, but outages are an unpredictable fact of life, happening at any given moment and without warning.
In fact, as we write this, homeowners in Cutchogue have been without power for several hours: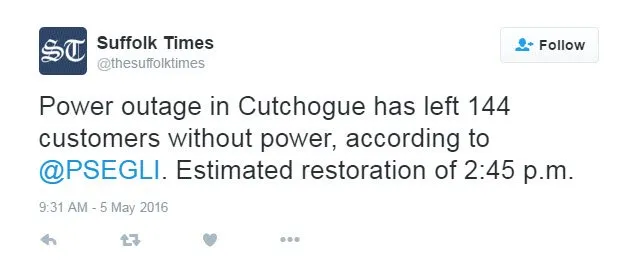 A quick check of the PSEG power outage map gives you a real-time snapshot of power loss across Long Island. We checked the map on May 5th and found over 1,100 PSEG customers were without power: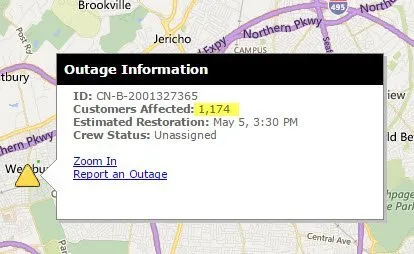 Battery Backup + Solar = Resiliency
Solar coupled with batteries provides perhaps the most reliable source of energy during an outage. As solar energy gains increasing popularity, battery backup combined with solar is on track to dominate the energy landscape.
Francine F. of Long Beach, an EmPower solar and battery client since 2014, doesn't even notice when the power goes out or when her battery backup system starts supplying power! "…the only way we know [the power] went out is that the neighbor's generator goes on, and it is so noisy that we notice…the conversion from the grid to the battery back-up is seamless…we don't even notice that the back-up has gone on."
Fortunately, and much to the excitement of solar-enthused Long Islanders, the Tesla Energy Powerwall is available today, and not only does it boast superior reliability and a sleek design, the Powerwall promises to have a huge impact on the battery market.
Based on the proven lithium-ion battery technology Tesla uses in its incredible electric vehicles, the Powerwall can be paired with most solar power systems. One Powerwall unit has an energy capacity of 6.4 kWh: That's enough storage to supply power to critical loads such as lighting, a refrigerator and plug loads in the event of an outage.
As a Tesla Energy Authorized Reseller and Certified Installer, EmPower is ready to design solar energy systems that integrate the Powerwall starting today!
How Much Backup Power Do You Need?
Here's the best part: we're fully prepared to customize your unique solar + battery system and select the best products to meet your emergency needs. No guesswork required.
In fact, we've been innovating solar and backup storage for over a decade, starting with America's first Solar-Hydrogen Fuel-Cell home at the 2005 Solar Decathlon. Today, we design and install battery systems that fully integrate with high-efficiency SunPower panels. Currently, we use traditional lead acid batteries paired with advanced power control equipment for standard emergency backup power systems. These systems are cost effective and offer long term reliability, but we're excited to announce additional offerings very soon.
Whether occurring during another Sandy or in the middle of a typical Thursday, power outages are inconvenient, expensive and often dangerous. Solar + battery backup not only offers the convenience of uninterrupted power supply, it also provides homeowners with invaluable peace of mind.
Want more information on solar and battery backup for your home? Click here or call 516.837.3459.
About the Author

EmPower Solar develops, engineers, installs, and services solar and battery systems for residential and commercial clients. Since 2003, EmPower Solar has empowered thousands of New York homeowners and businesses with 47 megawatts of distributed solar. Its vision is to create a new energy paradigm powered by clean, renewable energy for a more prosperous, healthy, and civil world. The company culture is defined by the EmPowering Way, which results in consistent 5-star customer service reviews. For more information visit empower-solar.com.