Updated Incentives Programs in ConEd territory:

Jul 06, 2018
by EmPower Solar
SOLAR IN NEW YORK CITY AND WESTCHESTER MAKES MORE FINANCIAL SENSE THAN ANYWHERE ELSE IN THE STATE, AND THE DEAL JUST GOT SWEETER.
With declining costs of solar technology, increased efficiency, and plenty of financial incentives still available, an updated boost from the NY-Sun program is the cherry on top for the New York City solar market. Legislation that expanded the NYC property tax abatement and allows for battery backup in NYC is the sprinkles on top of the cherry! On top of that (hot fudge?), there is also a new and robust Electric Vehicle charging program available – the perfect complement to a solar system.
Here is an excerpt from SolarPowerWorld that explains why the updated NYSERDA NY-SUN update is so important. "The NY-Sun Megawatt Block program has already supported 652 megawatts of completed projects and another 979 megawatts are currently under development. The Megawatt Block has provided a stable, transparent incentive structure for project developers since it was introduced in 2014. The redesign represents a continued commitment by the state to ensure the growth of the evolving solar industry and the program revisions are the result of ongoing coordination with New York's solar developers and stakeholders."
During the last few months of 2018, updates and changes have been made to accommodate the unique challenges of installing solar across the sprawling metropolis of New York City.
There are some updates made to arrays at "preferred locations"
Brownfields, Landfills, and Low-Income housing will receive a bonus 10 cent per watt incentive.
That would come out to about $1000 savings per family
For commercial installations, it would equal about a 5-10% discount.
Con-Edison (New York City and Westchester) updates:
For parking and rooftop canopy projects, there is an additional 30 cent per watt incentive to make up for additional costs of construction. These structures help buildings with flat roofs and limited space to make room for a solar array.
Changes to the non-residential and commercial/industrial sector size limitations:
Larger systems can receive incentives for an increased size of 750 kW.
Commercial and Industrial size limit was raised to 750 MW.
Earlier in the year, the commercial size limit was increased to 5 MW.
NYC Property Tax Abatement
The 20% property tax abatement allows NYC residents and business to claim 20% of the gross cost of their system in property tax abatements over a 5 year period.
This was scheduled to expire at the end of this year but it was just extended through 2021.
An additional bill expands the property tax abatement to also cover battery backup power projects through 2021.
Plus, an electric vehicle expansion initiative:
New York Power Authority is committing 42 million to phase one, and 250 million for the duration of the EVolve NY program. Phase one will include:
Interstate fast chargers.
Airport fast chargers.
Ev model communities.
Zero-emissions city bus fleet
Energy systems in New York City and Westchester present a set of challenges that are unlike the rest of the state. So, creating specific incentives to adapt to those challenges is important and helpful.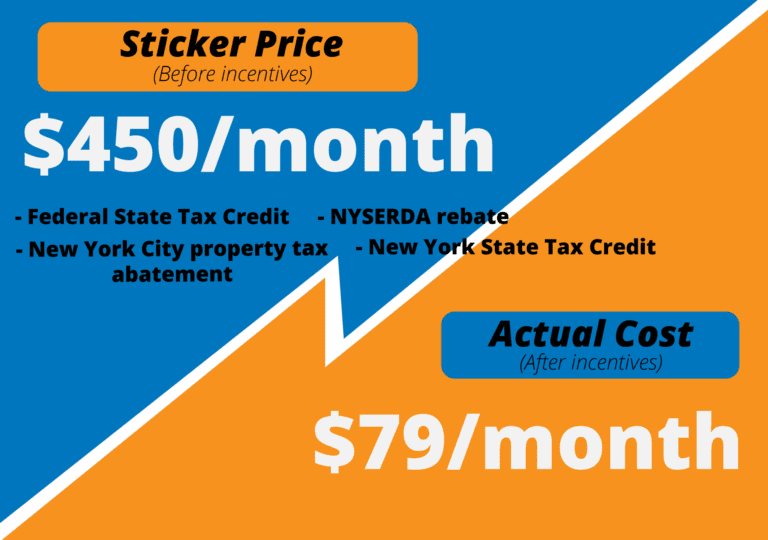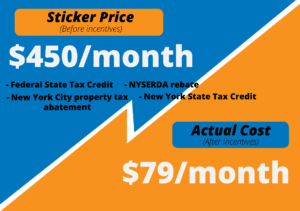 We've also seen cases where system cost is $250/month without incentives decreased to $124/month after incentives, plus $7,000 off your property taxes.
About the Author

EmPower Solar develops, engineers, installs, and services solar and battery systems for residential and commercial clients. Since 2003, EmPower Solar has empowered thousands of New York homeowners and businesses with 47 megawatts of distributed solar. Its vision is to create a new energy paradigm powered by clean, renewable energy for a more prosperous, healthy, and civil world. The company culture is defined by the EmPowering Way, which results in consistent 5-star customer service reviews. For more information visit empower-solar.com.