10 Things You Can Do to Help the Environment

Aug 28, 2019
by EmPower Solar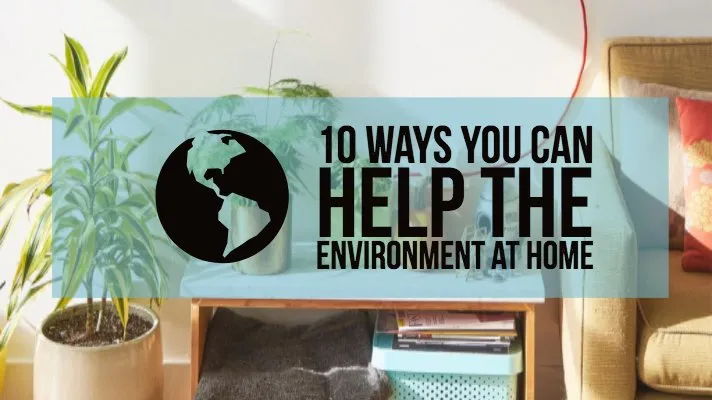 The environment faces numerous challenges today. Global warming is driving sea levels higher, causing extreme weather, and changing ecosystems in unexpected ways.
It will take a worldwide effort to address and adapt to these changes. Governments and industries will play a part, but there are plenty of things you can do too!
While research and innovation in transportation, food supply, material use, and energy are hugely important, here are 10 things you can do to help the environment right from your own home:
1. Look into energy efficiency
Efficiency measures may not sound like the coolest or most exciting solution to reducing our collective carbon footprint, but they are one of the most important. There are a multitude of programs in New York available for residents to evaluate their homes for free, and making efficiency changes saves up to 40% on energy costs. We may not be one of the greenest cities in the US yet, but we're on the right track.
2. Unplug your electronics
A relatively simple measure you can take right now, is to just unplug your devices when you're done using them. Set a reminder on your phone to notify you when you've left the house, or better yet, every time you finish using something electronic build a habit around unplugging it.
3. Look into renewable energy ☀️
Switching to solar power for your home is a great financial decision, it's good for your community, and for the planet as a whole. If you don't have a good house for solar, is there a community solar site near you? In some states, policy allows for residents to subscribe to solar energy at an off-site location for a reduced rate.
4. Grow house plants
Not only do house plants reduce carbon dioxide levels, increase humidity, reduce levels of pollutants, cushion against outdoor noise, reduce dust and keep temperature down, but they are also proven to improve your overall mood. People who are surrounded with plants throughout the day and at home are proven to be less stressed, more productive, and all around happier.
5. Cleaning supplies
Switching out your cleaning cabinet for less harsh, safer eco-versions makes no sacrifice for cleanliness. Choosing brands with a sustainability mission usually result in less plastic waste, and practice responsible sourcing of materials, too!
6. Use towels, not the paper kind.
We get it, it's not always easy to have clean hand towels lying around. If you are married to your stock of paper towels, at least opt for the recycled versions!
7. Grow a garden
Growing food in your backyard is a satisfying and rewarding way to source your fruits and veggies! You'll save money, spend quality time outdoors, and grow produce higher in nutrients than what you would buy at the store. Plus, your kids will probably eat more veggies that they played a role in growing!
Another helpful-tip – leave your grass shavings on the lawn after you trim.
8. Recycle, and do it correctly!
In a perfect world, single use plastic would not exist and we wouldn't need to recycle. However, since we do, it's important to do it correctly. Do some research on how your neighborhood or state manages their recycling. There are certain rules about what goes in the recycling bin and how to put it there. Here is a great resource on some things to keep in mind about recycling at home:
9. Reduce water consumption
Reduce your use by only running a full dishwasher, do your dishes in a full sink, always take a shower, if it's yellow let it mellow!
10. Dispose of harmful substances properly
Here are some tips from the EPA:
"Follow any instructions for use and storage provided on product labels carefully to prevent any accidents at home.
Be sure to read product labels for disposal directions to reduce the risk of products exploding, igniting, leaking, mixing with other chemicals, or posing other hazards on the way to a disposal facility.
Never store hazardous products in food containers; keep them in their original containers and never remove labels. Corroding containers, however, require special handling. Call your local hazardous materials official or fire department for instructions.
When leftovers remain, never mix HHW with other products. Incompatible products might react, ignite, or explode, and contaminated HHW might become unrecyclable.
Check with your local environmental, health or solid waste agency for more information on HHW management options in your area.
If your community doesn't have a year-round collection system for HHW, see if there are any designated days in your area for collecting HHW at a central location to ensure safe management and disposal.
If your community has neither a permanent collection site nor a special collection day, you might be able to drop off certain products at local businesses for recycling or proper disposal. Some local garages, for example, may accept used motor oil for recycling. Check around.
Remember, even empty containers of HHW can pose hazards because of the residual chemicals that might remain so handle them with care also."
About the Author

EmPower Solar develops, engineers, installs, and services solar and battery systems for residential and commercial clients. Since 2003, EmPower Solar has empowered thousands of New York homeowners and businesses with 47 megawatts of distributed solar. Its vision is to create a new energy paradigm powered by clean, renewable energy for a more prosperous, healthy, and civil world. The company culture is defined by the EmPowering Way, which results in consistent 5-star customer service reviews. For more information visit empower-solar.com.