Survey Shows Solar Knows No Party Lines

Apr 05, 2019
by EmPower Solar
SOLAR HOMEOWNERS ARE EQUALLY DIVIDED BETWEEN POLITICAL AFFILIATIONS
The results are in! Our team just reviewed the results from our annual client survey to learn more about trends on political affiliation and motivating factors for going solar. Findings show that solar is equally popular across the political spectrum.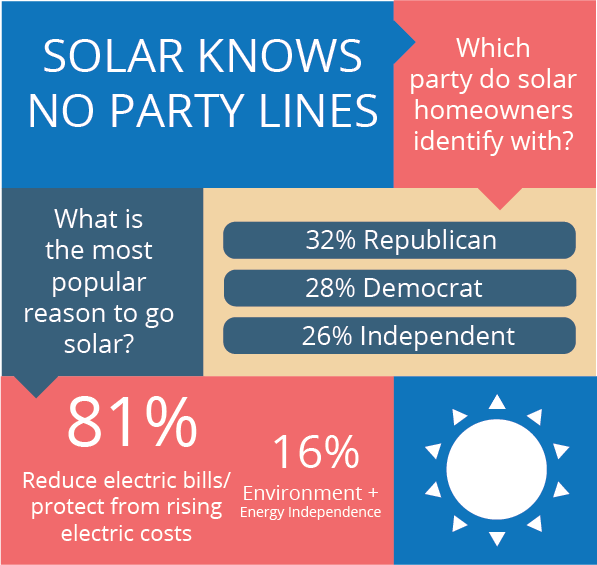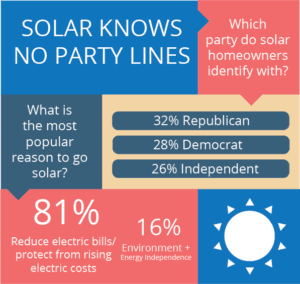 Survey responses collected from recent EmPower Solar clients – all with residential solar systems installed on their homes – show that 32 percent identify as being affiliated with the Republican Party, 28 percent with the Democratic Party, and 26 percent claim to be independent or unaffiliated. Just over 9 percent chose not to list their affiliation and 2 percent identified with the Libertarian or Working Families Party.
In addition to political party, the company found that the number one motivating factor for clients to go solar was to save money. Of all clients surveyed, 81 percent stated that their main factor was to either reduce electric bills or protect themselves from rising energy costs.
"What we find year after year is that our clients are equally split among affiliations," said David G. Schieren, CEO of EmPower Solar. "They're going solar because it saves money and it's a great investment."
Of all responders, 16 percent listed environmental protection, energy independence or political reasons as their primary motivating factor to make the switch, but these factors were listed consistently as important reasons overall.
"Our solar clients also feel empowered by contributing to the environment and impacting local air quality," Schieren continued. "But at the end of the day, the numbers have to work – and fortunately on Long Island, New York City and Westchester, they do."
"In today's divided political landscape, clean energy is sometimes labeled as a progressive issue, but it's clear to see that renewable energy has support from a diverse set of stakeholders. Many elected leaders are starting to see that, so there is support across the aisle for renewable policies across the country – just look at the equally bi-partisan member Climate Solutions Caucus," said Tara Bono, Director of Client Experience and Stakeholder Relations, EmPower Solar. "When something hits the entire triple bottom line, it's hard not to be against it. Solar is a win-win for our planet, the economy, and society."
Among other trends, the company is also seeing an increased demand for battery backup and energy storage. EmPower Solar, a Tesla Powerwall Certified Installer, has marked an uptick in requests for battery-paired solar systems which allow homeowners to keep their home powered during a power outage and use their own energy instead of pulling from the grid.
About the Author

EmPower Solar develops, engineers, installs, and services solar and battery systems for residential and commercial clients. Since 2003, EmPower Solar has empowered thousands of New York homeowners and businesses with 47 megawatts of distributed solar. Its vision is to create a new energy paradigm powered by clean, renewable energy for a more prosperous, healthy, and civil world. The company culture is defined by the EmPowering Way, which results in consistent 5-star customer service reviews. For more information visit empower-solar.com.